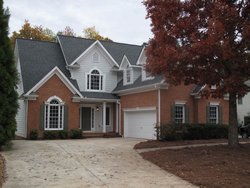 Despite a very slow real estate market, the Lackeys grew their company by 78.5% in 2010.
Atlanta, GA (PRWEB) May 13, 2011
Atlanta Housing Source at Solid Source Realty was started in 2005 by Mark Lackey and Anne Lackey. In 2010, despite the very slow real estate market, Atlanta Housing Source grew by an amazing 78.5%. Mark Lackey attributes this growth to his company's ideal of approaching their business with a "servant's heart." Mark and Anne are reaching their business goals by helping others solve what might seem to be an insurmountable obstacle in today's market—getting their house sold, even though they owe more on the house than its current value.
According to Gwinnett Chamber President & CEO, Jim Maran, the winners of the Chamber's 2011 Pinnacle Award are "risk-takers, innovators, and givers." Mark and Anne Lackey exhibit all three of these attributes. Mark and Anne's company lists and sells residential real estate in Metro Atlanta, including Gwinnett, Forsyth, Fulton, Cobb, Dekalb, and Hall counties, as well as in surrounding counties.
When asked why his company saw extraordinary growth in 2010 during such a down market, Mark Lackey says it is because compassion is firmly rooted at the heart of their business. Many of Atlanta Housing Source's clients have suffered from financial hardships over the course of the past two years, including the threat of foreclosure. By structuring their business to actually solve their clients' financial problems through innovative ways of selling houses, such as short sales, the Lackeys are able to help their clients "move forward with their lives with a burden removed."
In addition to helping sellers who are underwater on their mortgages, the Lackeys have a dynamic marketing plan for anyone who wants to sell, despite the lagging market conditions. "We've really embraced technology," says Mark. Last year we totally revamped our website. "This year we're using Internet marketing methods more and more to get exposure for our sellers and also to find buyers." The Lackeys have a team of six buyers' agents who work in virtually every geographic area in metro Atlanta.
A short sale is a real estate transaction where the lender agrees to accept a mortgage pay off that is actually lower than the stated amount owed on the mortgage. "Many of our clients bought at or near the top of the real estate market," Mark says. "When the housing crunch came, they saw the values of their homes drop by as much as 25%." With small down payments and high loan-to-value mortgages, many people found themselves unable to sell for enough to pay off their loans.
"In the past, when something unfortunate like a job loss occurred, people would just sell their house, and use the equity to straighten things out," says Mark. "Unfortunately, over the past two years, we have seen housing prices drop, not grow. If you bought your house within the past three or so years, there's no equity to use to solve your financial problem."
Of course, with the housing crisis came rampant job loss. A lot of people who bought houses found themselves with only one income, or even with no income. Yet, the "normal" solution of just selling the house and starting over is often no longer possible. This is where Atlanta Housing Source's team steps in.
"We created a team of professionals to find solutions for these individuals in need," says Anne Lackey, Mark's wife and partner in the business. "We have an attorney and also licensed loan originators who specialize in helping us help sellers who are struggling." The Lackey's team intimately understands the loan origination and banking process to the point that they can often get mortgage holders to lower the pay off on a mortgage down to the point where the house can get sold. "This is a win-win-win," says Mark. "The bank wins because they get a potential bad loan off the books. The seller wins because they get to start over financially. And we win because we're able to help yet another homeowner navigate a complex and potentially financially devastating situation."
Atlanta Housing Source at Solid Source Realty is owned and operated by Mark Lackey and Anne Lackey. Between them, they have over 20 years experience working in the real estate industry. Atlanta Housing Source is a full-service, residential real estate team at Solid Source Realty, Inc. They help both buyers and sellers achieve their personal and financial goals via residential real estate. Atlanta Housing Source at Solid Source Realty serves the entire Atlanta area. They can give you up to the minute information about homes for sale in Gwinnett County, along with homes for sale in the whole metro area.
# # #