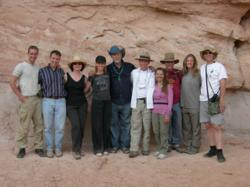 "Why settle for virtual reality, go direct." -- John P. Milton, Founder The Way of Nature
(PRWEB) May 12, 2011
On five (5) continents and more than fifteen (15) countries, groups are gathering in wild places to honor Nature. The World Nature Quest, May 14 – 22, is a collaboration of visionary change agents, wilderness guides and cultural thought leaders, joining together to share their love, gratitude and appreciation for the Earth.
Volunteers from Colombia to Estonia and from Australia to the Basque region of France have worked tirelessly to bring this event into being. Individuals simultaneously go into Nature for sacred ceremony and direct connection with the Earth. This connection is essential for our transition toward a healthy and sustainable future for humanity.
Leadership capacity and personal inspiration is sparked by Nature. Great clarity to solve our challenges arises from self-awareness and close contact with the Natural world. Learn more here: http://worldnaturequest.org
Our human ancestors recognized the importance of cherishing the Earth for the vital role it plays in our lives, supporting our existence. However, studies show Americans spend less than 1 hour per week outdoors. This Nature deficit disorder leads to illness and alienation.
Alone time in pristine wilderness is the source of renewal, healing and spiritual awakening. Most healthy and vital people take care of themselves by going into Nature and often re-purpose their lives.
A solo rite of passage inspires creativity and engenders a new ecological consciousness. Sharing this experience worldwide raises the possibility for new ideas, innovation and collaboration to emerge.
The World Nature quest enhances our chance to bring humans into balance and harmony with the laws of Nature. Join the celebration.
Contact: Bud Wilson, Global Director, BioRegional Leadership, The Way of Nature:
719-695-0135 http://www.sacredpassage.com
# # #