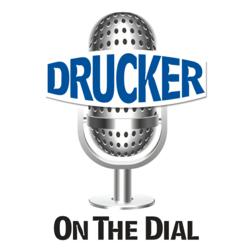 We're hoping to engage a general listenership that implicitly understands the role of effective management and responsible leadership in a healthy society.
Claremont, Calif. (PRWEB) May 12, 2011
The Drucker Institute at Claremont Graduate University announced that it will launch this week "Drucker on the Dial," a radio show on management and leadership.
The first installment of the one-hour interview program will be posted on Friday, May 13, on the Public Radio Exchange, an online marketplace for distribution, review and licensing of public radio programming. A new edition of "Drucker on the Dial" will then be available for free on PRX the second Friday of every month.
"Drucker on the Dial" will feature a wide range of well-known guests—executives, authors, academics and others—discussing topics that spring from the headlines. At the same time, the show will be informed by the teachings of Peter Drucker, hailed by BusinessWeek as "the man who invented management."
"The tagline for 'Drucker on the Dial' is 'where timely issues meet timeless principles,' and that's exactly the lens we plan to use," said Phalana Tiller, communications manager at the Drucker Institute and the show's host. "Our aim is to attract an audience that goes well beyond those steeped in business. Rather, we're hoping to engage a general listenership that implicitly understands the role of effective management and responsible leadership in a healthy society."
On the first show, Tiller talks with Roger Martin, dean of the Rotman School of Management at the University of Toronto, on a variety of subjects, including his new book, Fixing the Game: Bubbles, Crashes, and What Capitalism Can Learn from the NFL. And she chats with James Quigley, global CEO of professional services giant Deloitte Touche Tohmatsu, about his book As One: Individual Action, Collective Power.
The Host
Phalana Tiller, the Drucker Institute's communications manager, knows her way around a microphone. She is a veteran of stage and screen, and recently starred in a Directors Guild of America award-winning film, "Shoegazer." She has worked as a DJ at WTJU, a public radio station in Charlottesville, Va., and as a VJ on MTV-2 in the late 1990s. In her post at the Drucker Institute, she is responsible for producing the blog the Drucker Exchange and overseeing the Institute's presence on Twitter and Facebook, in addition to hosting "Drucker on the Dial."
Executive Producer
Rick Wartzman, the executive director of the Drucker Institute, spent 20 years as a reporter and editor for The Wall Street Journal and Los Angeles Times, where he last served as editor of the Sunday magazine, West. He writes a biweekly column, "The Drucker Difference," for Bloomberg Businessweek online. He has also written two critically acclaimed books, the bestselling King of California: J.G. Boswell and the Making of a Secret American Empire and Obscene in the Extreme: The Burning and Banning of John Steinbeck's The Grapes of Wrath.
About the Drucker Institute
The Drucker Institute at Claremont Graduate University is a think tank and action tank whose purpose is to better society by stimulating effective management and responsible leadership. It does this, in large part, by advancing the ideas and ideals of the late Peter F. Drucker, the father of modern management.
To meet its mission, the Institute hosts collaborative forums for executives from across all sectors; works with high school and middle school students to teach them basic management principles and equip them with lifelong tools for effectiveness; produces curricular material that distills Drucker's decades of leading-edge thinking, including a management training system called the Drucker Management Path; and acts as a hub for a worldwide network of Drucker Societies: volunteer-driven organizations that are using Drucker's teachings to bring about positive change in their local communities.
In addition, the Institute maintains a digital archive of Drucker's papers and other holdings related to the fields of management and leadership; undertakes research that builds on Drucker's writings; offers an annual $100,000 prize for nonprofit innovation; applies Drucker's work to current events (through a regular online column in Bloomberg Businessweek by Institute Executive Director Rick Wartzman; a blog called the Drucker Exchange; and a monthly radio show called "Drucker on the Dial"); and hosts visiting fellows with Drucker-like insights and values.
The Institute is a close affiliate of the Peter F. Drucker and Masatoshi Ito Graduate School of Management, which is training the next generation of leaders and managers to do good while they do well. For more on the Drucker Institute, please visit: http://www.druckerinstitute.com
About Claremont Graduate University
Founded in 1925, Claremont Graduate University is one of the top graduate schools in the United States. Our nine academic schools conduct leading-edge research and award masters and doctoral degrees in 22 disciplines. Because the world's problems are not simple nor easily defined, diverse faculty and students research and study across the traditional discipline boundaries to create new and practical solutions for the major problems plaguing our world. A Southern California-based graduate school devoted entirely to graduate research and study, CGU boasts a low student-to-faculty ratio.
# # #