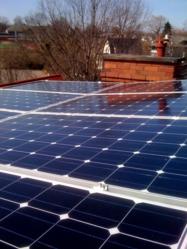 The homeowner did not want the solar system to be visible from the street
Murrieta, CA (PRWEB) May 14, 2011
After their four-day Solar Photovoltaic training at Ambassador Energy's training facility in Murrieta, CA, PowerSource Energy Management quickly hit the ground running, selling and installing their first solar PV system near Cincinnati, Ohio.
Not intimidated by the three-story structure in Hyde Park, a historic area of Cincinnati, the Ambassador Energy Agency, PowerSource Energy Management team, lead by Dave Meere and David Stiles, installed a 10-panel 2.5 kilowatt solar photovoltaic system on their client's roof.
Given the sensitive aesthetics of the area, "the challenge was that the homeowner did not want the solar system to be visible from the street," said Stiles. So, the team designed a custom solar system, which was smaller than the originally-planned 33-panel system, yet would reduce the homeowner's electric usage enough to make a significant impact on the monthly bill. The end result, given the square footage available on the roof, the need to keep the panels from flagrant visibility and the desire to offset a significant portion of electricity purchased from the grid, was a palatable system, which, at the very least, now pays for the home's air conditioning in the expensive summertime months.
The challenge, in addition to making the panels invisible from the street was the three-story roof. Said Stiles, "we used a 28-foot ladder to access the first story and another 16-foot ladder to get to the top." Their hard work and resourcefulness paid off, as the Hyde Park Electrical and Building Inspectors passed the project with no issues. Stiles added, "The inspectors were very nice gentlemen to deal with."
About PowerSource Energy Management
PowerSource Energy Management provides solar PV solutions to both residential and commercial clients in Southwest Ohio and is an Authorized Agency of Ambassador Energy, Inc.
Founder, Dave Meere has been in the building industry for the past 15 years as a custom homebuilder and general contractor. Dave carries the designations of Certified Green Professional (CGP) and Certified Graduate Builder (CGB) through the NAHB. Projects have ranged in value from $200,000 to $3,000,000 and have won numerous industry awards.
David Stiles has spent his entire career in public service as a Firefighter, EMT, Fire Inspector, and Police Officer. David has over 20 years of experience in excellent customer service practices, working hand-in-hand with local business owners, teaching classes to business and community groups, and working with various building contractors and county inspectors. David is also a lifelong resident of the Cincinnati area.
About Ambassador Energy
Ambassador Energy (AE) is a solar training and distribution company, with over 60 Authorized Agencies operating in 17 US states. AE employs two NABCEP Certified Installers (Fulgham 031310-74 and Kelso 031310-124) and one NABCEP Certified PV Technical Sales professional (Fulgham 012911-35). AE provides a turnkey, consolidated platform of renewable energy training, support, product-agnostic distribution and evolving mindshare to a nationwide network of Ambassador Energy Authorized Agents, who are contractors and entrepreneurs augmenting their portfolios by offering renewable energy solutions to their clients.
Ambassador Energy offers their Agency program to qualified candidates. New Agency Training is offered approximately once every four to six weeks.
###