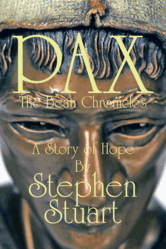 Boca Raton, Fla. (PRWEB) May 17, 2011
The concepts of good and evil have been the basis of philosophy, art and literature since man first mastered fire. Mankind has strived and struggled to fully comprehend all of the nuances of the two diametric forces ever since. But humans aren't the only ones who struggle to understand good and evil. In the new book PAX: The Bean Chronicles (published by Trafford Publishing), author Stephen Stuart delivers the second installment of The Bean Trilogy.
PAX follows the most unlikely of heroes – a metaphysical imp named Bean. He is a most altruistic creature who has found himself the soi-disant guide of the human race. Bean's ever present task is to steer humanity towards righteousness and morality.
While Bean's efforts are sometimes futile or even thwarted, he manages to maintain a positive outlook due to the companions he travels with on occasion. Bean has been gathering together a rather assorted band of odd and eccentric creatures. This dissimilar group led in turn by a young spiritually gifted girl named Patch, forms the foundation of an army that Bean is assembling to fight in an upcoming battle with an evil, malevolent being called Lili-It.
PAX finds Bean reconnecting with an old friend called Leader. Leader has just concluded a unique adventure; he spent 1000 years as the "leader" of the Earth's bloodsucking insects. He did this in an effort to trace the origin of man's predilection for blood.
As Bean and Leader travel together, Bean endeavors to teach his friend about humanity and their myriad of emotions. The pair makes their way to the Southwestern United States where they meet up with Bean's odd and quirky band.
The philosophical meanderings and humorous hypothesis of PAX serve to create a unique reading experience that will challenge, amuse and even teach its readers.
Kirkus Reviews, Discoveries:
"…a cerebral and wildly thought-provoking fusion of fantastical fiction and metaphysical speculation."
"…the themes of the story are undeniably powerful and fascinating…"
"…this is an intelligent, surprisingly humorous novel chock full of ideas and speculation."
"…those who enjoy challenging, provocative and ultimately uplifting novels will want to get to know Bean."
About the Author
Stephen Stuart was born in the borough of Brooklyn in New York City. While in high school, Stuart became interested in photography which resulted in a 30 year career in the advertising venue as a commercial photographer specializing in cosmetics and food. After retiring from photography and after a successful stint as a fine art scrimshander, he turned his efforts to writing. Stuart is also the author of The Wonder of All That Is: The Story of Bean, the first installment of the Bean Trilogy. He is currently working on the third book in the series.
Trafford Publishing, an Author Solutions, Inc. author services provider, was the first company in the world to offer an "on-demand publishing service," and has led the independent publishing revolution since its establishment in 1995. For more information, visit http://www.trafford.com.
# # #