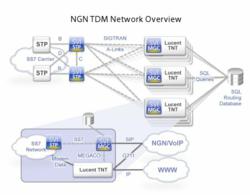 Signalling Aggregation Saves 82% for CoreTel per year
(PRWEB) May 16, 2011
In 2007 US CLEC Core Communications Inc, (CoreTel) chose Squire Technologies to provide a distributed SS7 network to deliver large-scale modem dial-up services with a view to migrating to NGN in the future.
To deliver the dial-up modem services, with a smooth network rollout to 13 POPs, Squire Technologies used the existing Lucent TNT/APX Media Gateways and a cost saving STP solution to provide Signal Aggregation with the dynamic and scalable 'software only' media Gateway Controller (SVI-MGC).
In 2010 CoreTel approached Squire Technologies to deliver NGN SIP VoIP services. Media adjustments to the Lucent Gateways and a quick configuration change to the SVI-MGCs enabled the support of SIP. The activation of the SQL API allowed CoreTel to build and manage, using their expertise and business knowledge, a centralised SQL Routing Database allowing calls to be correctly routed out over both SIP and TDM.
These steps will allow CoreTel to further advance their NGN Services with unparalleled efficiency when they are ready. Options can include: Utilising SIP-I/SIP-T protocols, simplifying & securing VoIP network with Session Border Controller (SVI-SBC), or including SMS functionality with the SVI-SMS Gateway and Wholesale SVI-Billing module.
For more comprehensive details of this project and to find out:

How the migration was made possible without changing any of the network equipment
How Signalling Aggregation Saves 82% for CoreTel per year
How the business logic that drives CoreTel's business is driven by the business experts – CoreTel
How Squire Technologies build-in, future proof technologies to all their products to allow a simple migration path from TDM to NGN
Bret Mingo, CoreTel CEO commented "We were sold the TDM solution with the promise that we could migrate to NGN when the time was right. This promise was kept; we were easily and through configuration only, able to rollout a NGN service offering SIP trunks to our clients."
Joe Williamson, Squire Technologies US Sales Manager responded "We look forward to working closely with CoreTel in the near future to implement the next phase in their NGN service offering. We are committed to support their plans through the continued integration of their business logic via the SQL support and through our range of NGN technologies."
For more information on how you can implement NGN solutions 'Ask The Experts' at Squire Technologies. or come and visit us at International Telecoms Week (ITW) in Washington D.C. 23-25 May 2011.
# # #