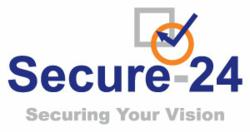 Orlando, FL (PRWEB) May 12, 2011
Secure-24 Inc., an SAP® hosting partner and SAP cloud provider, will showcase its capabilities at the SAPPHIRE NOW conference on May 15 - 18, 2011 at the Orange County Convention Center.
Secure-24's senior executives, regional managers and SAP technical management team will be available in exhibit hall booth 2445 to meet with visitors and demonstrate the company's single-source support for the entire lifecycle of SAP solutions. In addition, Secure-24 will share its SAP outsourcing case studies that demonstrate real-world examples on how to unlock strategic advantages, mitigate risk and drive up ROI.
This year, SAP designated Secure-24 among its first partners certified to deliver SAP® applications in private and hybrid cloud models. As an SAP provider of cloud services, Secure-24 will provide mid-market companies and enterprises with a cost-effective, cloud-based delivery model for mission-critical SAP applications.
As a 2010 SAP Pinnacle Award finalist, Secure-24 was able to showcase its strong partnership with SAP AG and clients that require high-quality products, solutions and services. The company aims to achieve several customer objectives:

Provide a highly scalable and dynamic infrastructure to host complex SAP landscapes in a cloud environment that will support the future growth of the business.
Establish high-performance infrastructure, featuring transparent and easy billing models for high customer satisfaction.
Operate a complete range of SAP Business Suite components on an integrated and shared storage infrastructure and powered by leading technology
Reduce IT operational costs without sacrificing service quality.
Introduce reliable and comprehensive backup, resilience, and disaster recovery solutions.
Increase the speed of new SAP application provisioning, to help companies respond faster to business requests.
The global SAPPHIRE NOW is the world's premier business technology event offering insights and opportunities to drive business results. It offers SAP customers, partners, and prospects the opportunity to attend sessions, hear from thought leaders, and interact and collaborate more effectively with other participants around the globe.
About Secure-24, Inc. (http://www.secure-24.com)
As an SAP hosting partner and SAP provider of cloud services, Secure-24 provides a full service technical offering in support of SAP applications with proven project methodology and demonstrated successes in hosting, management, upgrades, migrations and support engagements. The company's competency in enterprise application hosting and private cloud computing is supported and recognized by strong partnerships with industry leaders like SAP, VMware, Cisco and EMC.
Secure-24 manage complex IT landscapes for some of the largest companies in North America, with a focus on quality, completeness of service, and delivering real business value to customers. As a result of enterprise customers' stringent requirements, Secure-24 is continually audited and maintains a high level of compliance, leveraging SAS 70 Type II certified data centers and a long-established history of Information Technology Infrastructure Library (ITIL) IT management processes to help customers meet compliance mandates and mitigate risk.
Secure-24's is committed to providing robust, strategic and transformative technologies that help its customers to be innovative and competitive.
SAP and all SAP logos are trademarks or registered trademarks of SAP AG in Germany and in several other countries. All other product and service names mentioned are the trademarks of their respective companies.
Media Contact:
Cheryl O'Brien
Secure-24
29355 Northwestern Highway, #300
Southfield, MI 48034
248-784-1021 x226
# # #