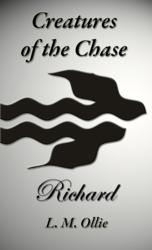 "Man is the hunter; woman is his game: The sleek and shining Creatures of the Chase. We hunt them for the beauty of their skins; They love us for it, and we ride them down." Alfred, Lord Tennyson – The Princess
Sudbury, MA (PRWEB) May 12, 2011
Reading a fantastic work of fiction is like undertaking a journey in which you will meet extraordinary people doing extraordinary things against extraordinary backgrounds. You clamber aboard, find a comfortable place to settle in, and say goodbye to the real world. Once you've met a few of the Creatures of the Chase in New Zealand-based author L.M. Ollie's new series, you may find it difficult to put the book down and return to reality.
"Creatures of the Chase —Richard" kicks off the series by introducing the reader to Sarah Churchill. Young, intelligent, and beautiful, Sarah knows exactly what she wants from life—a career in medicine; but that all changes on New Year's Eve, 1979 when she is abducted. Forced to confront the worst possible nightmare at the hands of a man with few moral scruples, or so it would seem, Sarah learns not only how to adapt but how to quite simply survive. The brutal lessons serve her well when she ultimately finds herself playing the role of Hunter—although she will pay dearly for her entry to the Chase.
"The foundation for 'Richard' came from a remembered conversation with a beautiful and elegant young girl named Sarah," recalls Ollie. "She was twenty-four years old at the time; I was eighteen. For four years she moved in a world beyond comprehension, populated by extraordinary individuals who were quite simply larger than life. Sarah provided me with a thumbnail sketch of men with excessive wealth, influence and power who did not play by the rules of normal convention, but instead saw themselves as the ultimate predators in a world where they could hunt with impunity simply because of who and what they were. Richard was one such individual; capable of great tenderness and caring one moment, and in the next, able to commit unspeakable acts of violence and cruelty," says the author.
"I remember after Sarah verbally introduced me to her world that I made an inane remark about 'jet setters' and 'high flyers'. Sarah smiled with a smile which I would later come to recognize as being reserved for children or the elderly perhaps, and she said sadly, 'No, the people I'm talking about flew under the radar.' I didn't understand then, but I understand now," says the author.
Readers who fancy fiction with sex and violence, mystery, murder and mayhem, exotic locales and history will find their appetite satiated with "Creatures of the Chase —Richard". The author introduces unforgettable and not infrequently monstrous characters who amaze—and at times horrify—one moment, then elicit laughter from the reader in the next.
Ollie provides the reader access to a world of characters that will both fascinate and appall. This is a gripping and compelling series of lust, wealth and the abuse of power yet, for all of that, "Creatures of the Chase —Richard" is also a tender, moving and profoundly tragic love story in the very best tradition.
"Creatures of the Chase —Richard" is the first book of a quartet, including book two, "Yusuf", book three, "Mikail", and the fourth book yet unpublished, which reveals Sarah's story.
Each book is available exclusively in e-book format converted by eBookIt.com and can be ordered through leading online book retailers such as Amazon.com and BN.com, or by visiting the publisher's website: http://www.taheke.co.nz
Author L.M. Ollie is available for engaging interviews.
About the Author:
Author L.M. Ollie is a Canadian-born Kiwi living in New Zealand with her husband Frank and assorted animals. Her daughter Alicia is a student at the University of Auckland. Ollie began writing the "Creatures of the Chase" series after the success of her first work of fiction, "On the Trail of King Richard III". Ollie has also written a play about King Richard III called "Thirteen at Dinner".
Contact: Taheke Press Limited
http://www.taheke.co.nz
ollie(at)taheke(dot)co(dot)nz
+64-9-416-9994
###