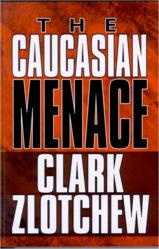 (PRWEB) May 18, 2011
Clark Zlotchew's espionage/thriller, The Caucasian Menace, a fast-moving, action-packed adventure that moves from Langley and Washington D.C. through Madrid and Paris to Dagestan, a remote but violence-prone corner of the North Caucasus district of the Russian Federation, between Chechnya and the Caspian Sea, will be displayed at Book Expo America between May 24-26 in New York, at the Jacob J. Javits Convention Center. This is the largest book fair in the U.S, and one of the largest in the world. The publisher, PublishAmerica, shares a show floor area at this exhibition with Random House, Apple, Scholastic, Simon and Schuster, and Disney.
Last year's show drew 21,000 visitors, 2,300 news reporters who wrote 830 BEA stories or were working for media such as 60 Minutes, Oprah's Magazine, Parade Magazine, People, USA Today, or Entertainment Weekly. Attendees came from 27 countries. In addition, 133 movie producers were searching for new movie scripts.
The Caucasian Menace has political intrigue, espionage and fast-paced violent action, centered on Dagestan, a remote corner of the Russian Federation. This break-away republic has nuclear warheads left over from the Soviet Union. The democratically-elected president has been ousted in a coup, and the usurper is intent on selling some of the warheads to Iran and/or terrorist organizations. He also holds a Russian nuclear physicist whom he intends to sell as well. To prevent interference with his plans, the usurper has nuclear missiles trained on key European capitals.
Neither the U.N. nor NATO will take action. The United States, wishing to avoid a nuclear disaster, cannot take any overt action. CIA operatives Baker and Gold are assigned to help the Loyalist army eliminate the usurper and help the Loyalists to recover the reins of government, while avoiding a nuclear confrontation. They must also rescue the scientist and prevent the sale of nuclear warheads to rogue states or terrorists.
Complicating matters, Baker's wife had been tortured and murdered years before by Thorne, the sadistic mercenary now employed by the usurper. Gold fears that Baker may have killing Thorne as his top priority, rather than capturing him for questioning. Meanwhile, William Bell, their immediate superior, has been selling information to the usurper that could result in failure of the mission and the deaths of Baker and Gold.
Book Expo America (commonly referred to within the book publishing industry as BEA) is the largest annual book trade fair in the United States. BEA is almost always held in a major city over four days in late May and/or early June. Nearly all significant book publishers in the United States, and many from abroad, have booths and exhibits at BEA, and use the fair as an opportunity to showcase upcoming titles, sell current books, socialize with colleagues from other publishing houses, and sell and buy subsidiary rights and international rights. Authors, librarians, and buyers for book retailers also attend the event.
BEA is North America's largest gathering of book trade professionals attracting an international audience. It is organized with the support of association partners including the Association of American Publishers (AAP) and the American Booksellers Association (ABA). BEA is recognized for the media attention it brings to upcoming books as well as for the notable authors it attracts to the convention itself.
BEA was held in Washington, D.C. in 2006, in New York City in 2007, and in Los Angeles in 2008. BEA was held at the Jacob K. Javitz Convention Center in New York City in both 2009 and 2010, and it will be held there again in 2011.(1) In past years, BEA was often held in Chicago.
Clark Zlotchew joined the U.S. Naval Reserve at age 17 as Apprentice Seaman, and received an Honorable Discharge as Chief Petty Officer (in Security). He has had a highly diverse set of careers, ranging from sales/production liaison for a large liquor manufacturer in New York to coordinating an educational program for Spanish-speaking seasonal workers to teaching Spanish at several colleges. At present he is SUNY Distinguished Teaching Professor of Spanish. Zlotchew has had 15 books published. His previous work of fiction is the espionage/thriller, TALON Force: Dire Straits, under pseudonym Cliff Garnett (Signet/NAL, 2001)
###