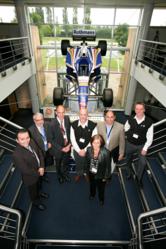 Oxfordshire, England (PRWEB UK) 12 May 2011
The Williams F1 Conference Centre in Oxfordshire was the high octane venue for GE Energy's technical seminar for engineers from the oil and gas industry interested in how the company's new range of high efficiency industrial motors can increase plant effectiveness.
GE technical experts and application engineers focused on motors and industrial services arrived from throughout the UK, North America, Denmark and Brazil especially for the event to discuss and share ideas with individuals responsible for maintaining and designing the UK's vital energy infrastructure.
GE Energy now provides a wide range of electric motors and generators, including severe-duty and custom made models that are particularly suited for use in demanding applications and harsh environments such as oil rigs, mines, power stations and transport infrastructure.
"Today electric motors are used virtually in all industries, including energy, mining, oil and gas sectors and hydro power. Now, with the constantly growing costs of resources, the use of highly efficient equipment and energy saving technologies is becoming more critical", says Mark Chisholm, GE Energy's Global Motors Applications Director.
Electric motors consume up to 60% of all the energy used in a typical industrial plant, so ensuring efficiency through replacing or refurbishing motors can make an important contribution to reducing costs and emissions.
The seminar also covered new motor monitoring technology which allows facility operators to identify issues before costly breakdowns and repairs become necessary and without the need for time consuming physical inspections.
GE now provides a range of asynchronous, synchronous and DC motors, 0.7 to 74,500 kW, as well as custom made electric motors that deliver high energy efficiency, complying with IE3 efficiency levels, long warranty periods of up to five years, and cost effectiveness.
GE's also offers consulting services that assess the effectiveness of installed electric equipment and advise on available upgrades as well as integrated bundles of energy equipment including motors, protections, inverters and controls,
"The breadth of experience and access to a wide range of technologies allows GE to connect the dots and find the solutions to help solve the industry's toughest challenges".
For more information about GE's family of robust high efficiency industrial motors please visit: gemotors.com.
All press releases & statements can be found on our press room
http://uk.geenergyeurope-pressroom.com/
About GE
GE is an advanced technology, services and finance company taking on the world's toughest challenges. Dedicated to innovation in energy, health, transportation and infrastructure, GE operates in more than 100 countries and employs about 300,000 people worldwide. For more information, visit the company's Web site at ge.com.
GE also serves the energy sector by providing technology and service solutions that are based on a commitment to quality and innovation. The company continues to invest in new technology solutions and grow through strategic acquisitions to strengthen its local presence and better serve customers around the world. The businesses that comprise GE Energy http://www.ge.com/energy —GE Power & Water, GE Energy Services and GE Oil & Gas—work together with more than 90,000 global employees and 2010 revenues of $38 billion, to provide integrated product and service solutions in all areas of the energy industry including coal, oil, natural gas and nuclear energy; renewable resources such as water, wind, solar and biogas; as well as other alternative fuels and new grid modernization technologies to meet 21st century energy needs.
For more information, contact:
Robin Greer (English)
Communications Manager, GE Energy Industrial Solutions
+ 34 933 127 8334
robin.greer(at)ge(dot)com
Matt Conkrite (English)
Communications Manager, GE Energy Industrial Solutions
+1 708-384-5156 / +1 773-590-0824
http://matt.conkrite(at)ge(dot)com
Nicole Jung or Selene Alford
Hopscotch Europe In One
+44 (0)208 133 3140
http://njung(at)hopscotch(dot)eu
http://salford(at)hopscotch(dot)eu
###