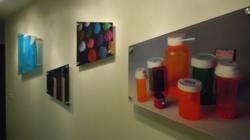 This state-of-the-art resource will help facilitate collaboration and enable our customers' ideas to become reality.
Calumet City, Illinois (PRWEB) May 14, 2011
Plastics Color Corporation. (PCC), a leading supplier of color concentrates and additive masterbatches for the plastics industry, has announced the opening of its new customer Solutions Center, a leading-edge design and application development center based on the company's Asheboro, N.C., campus. The new Solutions Center consists of a high-end color and product design center, affectionately knows as the "light box," which is linked to a comprehensive research & development laboratory and manufacturing center.
"This state-of-the-art resource will help facilitate collaboration and enable our customers' ideas to become reality," explained PCC Director of Development Tim Workman. "It houses a unique combination of personnel and technology to continue our role as an industry innovator."
The Solutions Center fills a need for creative and problem-solving capabilities where clients can immerse themselves in branding and product line development, assisted by PCC experts and state-of-the-art equipment, according to Workman.
The 3000 sq.-ft. Solutions Center fills a market demand for collaborative resources that go beyond a phone call or digital communications. "There's a market need for real collaboration between product designers, vendors, processors, and end users; and that's what the Solutions Center provides," explained Workman. An expansion is planned in the summer.
The design center features a balance of real-world color lighting conditions including straight fluorescent, fluorescent/daylight, and cool white; a 10,000 chip color library; a resource library; and all the amenities of a relaxed living environment (fully stocked refrigerator, large-screen plasma TV, inspirational and informative wall art, and ultra-comfortable furnishings) designed to inspire creativity and collaboration.
Additionally, the Solutions Center houses PCC's research and development lab that works in concert with customers, providing state-of-the-art testing and analytical capabilities to enhance current products and engineer new material compounds. PCC's North Carolina plant produces a wide range of colorants and additives for customers in food packaging, construction, medical, consumer products and other industries.
The Solutions Center has attracted a broad range of molders and end users. For example, PCC worked with a major international molder to meet a special set of performance requirements for packaging. The OEM wanted to replace a standard colorant pigment with higher performance pigments and additives. In another project, PCC collaborated with an international cosmetics company to establish a new product line. Dozens of new colors were needed along with differentiated packaging.
Two products that have already emerged from research work at the Solutions Center are SoluPET™, PCC's line of colors for PET, and SoluPLAs™, a line of additive and toner packages that enhance the performance of polylactic acid (PLA), positioning PLA for broader market use.
About Plastics Color Corporation
Plastics Color Corporation (PCC), headquartered in Calumet City, Ill., is a global provider of colorants, compounds, additive masterbatches and custom polymer solutions for an extensive range of markets including pharmaceuticals, medical, consumer goods and others. PCC supports virtually every type of manufacturing processes and materials. We engage our customers from concept to commercialization and help them develop new cutting-edge products that lead the market. PCC has more than 40 years' experience in the polymer industry and operates fully-equipped product development laboratories and manufacturing facilities in California, Illinois, North Carolina, and Nanjing, China. PCC's Illinois and North Carolina labs are certified by the American Association of Laboratory Accreditation, A2LA. PCC also provides testing and product development services through our Solutions Center in Asheboro, N.C. For more information, call (800) 922-9936 or visit http://www.plasticscolor.com.
PRESS CONTACT:
Joseph Grande
413.684.2463
joe(dot)grande(at)verizon(dot)net
# # #