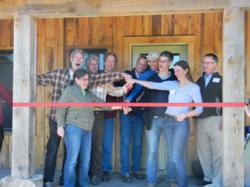 As new families join our community this summer to have fun with their kids, they'll get to see how possible it is to have a truly green vacation.
Starksboro, Vermont (PRWEB) May 12, 2011
On Saturday April 30, after days of record rain in the state of Vermont, the skies opened up and set the scene for a "Celebration of Sustainability: Innovative Ideas in Action" at Common Ground Center, a nonprofit family camp and retreat center and the home of Camp Common Ground, an all-inclusive family vacation. Upon the completion of their new Eco-Lodge, Common Ground took the opportunity to invite the public to their site to view how much they have accomplished since their humble beginnings over 20 years ago. The event included speeches by Bill McKibben, renowned author, environmentalist activist, and scholar at Middlebury College and David Blittersdorf, CEO and founder of green energy company AllEarth Renewables.
"Making sustainable choices has always been a part of our mission," stated Jim Mendell, one of Common Ground's founders. Peg Kamens, also a founder, added, "Our site needs to demonstrate our commitment to the environment. Through our green building practices, solar power, and low carbon footprint we set an example for the hundreds of families that attend our programs each year."
Bill McKibben echoed these points during the dedication ceremony: "These solar panels will not only help heat the hot water of this place, but will also educate all of the people that come through here every year and show them that it's entirely possible to be doing it, and remind them to be doing it, on their own places all over the world." McKibben also shared what he learned on a recent research trip to China, "For 250 million Chinese, when they take a shower at night, the hot water is coming off the roof. Compared with this country where it's well under a quarter of one percent of people who have solar hot water." Common Ground hopes that by using green technology in their own site, they are helping to change this disproportionate figure.
Over 200 people attended the event, pausing to admire and explore the new Eco-Lodge and it's innovative design. The Common Room of the Eco-Lodge was filled with representatives from organizations involved in Common Ground's development over the years. Vendors included Perkins/Smith (who built the Eco-Lodge), Colibri Architects (who designed the Eco-Lodge), Yestermorrow Design Build School, Lewis Creek Association, and even a table about non-violent communication.
Although the theme of the dedication ceremony, which reminded the public just how dire environmental issues are, was a sober one, the overall mood of the day was a celebratory one. Children took part in an interactive performance with the Association of Vermont Recyclers and vegetarian brick oven pizza made on site with many local ingredients satisfied the crowd's appetite. The sheer beauty of the Common Ground site, which is nestled between the Green and Hogback Mountains, bathed in sun and giving way to spring blossoms, allowed the crowd to remember what they're fighting for as environmentalists. A large percentage of the Common Ground site, 560 acres, was given over to the Vermont Land Trust so as to never be developed is cause enough for celebration.
Daivd Blittersdorf, local businessman and CEO of AllEarth Renewables, gave the crowd of mostly locals something to chew on, "Peak oil has happened and the nuclear disaster in Japan is bringing energy and how with live in the world front and center again. But I think Vermont will lead, and this [Common Ground's site development] is an example of leading, the rest of the United States. We're a tremendously small state; if we can't do it here can we do it anywhere?"
Common Ground believes we can do it as a state and a society. The event marked the achievement of a nonprofit that's striven to keep environmental sustainability in its mission and has come at a pivotal time. "Though we do this work without a guarantee that we'll triumph in the end, we do it in the spirit that it's a worthwhile way to spend one's life to make that fight," stated McKibben at the end of his speech, "And what a pleasure it is to fight side-by-side with you."
Common Ground Center has consciously chosen the greener path, often times over a simpler, less expensive one, to set an example that other citizens and organizations can follow throughout the country and the world. They can't wait to share the new addition to the facility with the many families that will attend Camp Common Ground this summer. "This site is a little piece of heaven to our campers and community members," says Carole Blane, the center's program director. "As new families join our community this summer to have fun with their kids, they'll get to see how possible it is to have a truly green family vacation."
For more information or to register for Camp Common Ground, an all-inclusive family camp vacation, pleases visit http://www.cgcvt.org, or call 1-80-430-2667.
###