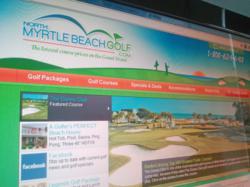 We tried to make it as easy to use and navigate as possible, with as much information as possible, while still understanding our target demographic.
Myrtle Beach, SC (PRWEB) May 13, 2011
NorthMyrtleBeachGolf.com, a division of CondoLux Vacation Rentals, recently unveiled their newly redesigned Myrtle Beach golf website, boasting features both "unique" and "not seen before" by any other golf website in the Myrtle Beach area, according to its creators.
Such features include a simple and instant golf tee-time quote system, golf course maintenance schedules, live and updated course condition reports, social media implementation and a simple live chat. NorthMyrtleBeachGolf.com always prided themselves on having the lowest course and accommodation rates in the Myrtle Beach area, and now, coupling that with the new website design, they are hoping to have a leg up on the industry.
"Myrtle Beach golf websites are a dime-a-dozen," said Justin Urich, one of the webmasters behind the design. "We had to really factor in ease-of-use while staying up-to-date with industry standards on this one. The final product is not only simple, but very informative and even a bit fun, something that's a bit lacking in most of the web sites in the area."
What makes this site unique, explains Urich, is how easy the developers made it to navigate and find information. All of the Myrtle Beach golf packages are broken down by number of rounds, and the golf courses and accommodations are broken down by area, making course selection easier for the user. The golfers that return on a regular basis know which courses they want to play and what part of the Grand Strand they want to play. Breaking it down this way makes weeding out the courses they are not interested in a bit easier.
"We haven't re-invented the wheel with this site," explained Paul Hanak, another designer behind the golf project. "There are other sites out there with some of the same features, but what makes this one unique is usability. We tried to make it as easy to use and navigate as possible, with as much information as possible, while still understanding our target demographic."
Other new NorthMyrtleBeachGolf.com features include:

A filterable and order-able list of all the major Grand Strand golf courses
Biographies of more than 35 golf course architects who designed golf courses in the area
A section dedicated to different grass types used on the area's Greens
Course Conditions updated by the Golf Directors on a regular basis
Myrtle Beach Golf Video Section with over 70 area course videos
Photo Gallery of the Grand Strand's Courses
Golf Map, plotting courses, attractions, resorts; including driving-directions
NorthMyrtleBeachGolf.com has seen a consistent increase in number of rounds booked over the last six years, according to golf director Craig Chinn, who always focuses on customer service and staying up-to-date with online marketing and web presence.
"We have a strong social media presence with Twitter, Facebook and other social networking sites. Also, with our live chat feature, it gives golfers a change to talk with me personally about the where to play, where to stay, course conditions etc." Chinn said. "Golfers who come here, especially for the first time, need advice on which courses to play or what area to stay. The better I can help them out, the better their trip is going to be."
NorthMyrtleBeachGolf.com is a division of CondoLux Vacation Rentals, with offices based in Myrtle Beach and North Myrtle Beach, South Carolina. The company specializes in oceanfront and oceanview condos, large villas and even private beach home rentals. They use these resorts and homes for their golf accommodations as well.
"Most people are surprised when they realize they can rent one of our oceanfront condos for the same price as a golf villa at the competitor's rate," said Chinn. "Plus, we don't limit by location. We've got over 70 different resorts and beach homes located up and down the Grand Strand, so the golfers have plenty of choices."
You may visit the new Myrtle Beach golf website at NorthMyrtleBeachGolf.com. Chinn also blogs on various golf websites including a golf blog at http://www.NorthMyrtleBeachGolf.net and his personal golf blog at http://northmyrtlebeachgolfblog.blogspot.com/
"We just launched only 5 days ago and have already seen the positive impact of the new site design," Chinn concludes. "We've had great comments and feedback, and look forward to finishing 2011 as strongly as we started this year."
CondoLux Vacation Rentals
311 17th Avenue South,
North Myrtle Beach, SC 29582
CondoLux of Myrtle Beach
1240 21st Avenue North, Suite 104
Myrtle Beach, SC 29577
###