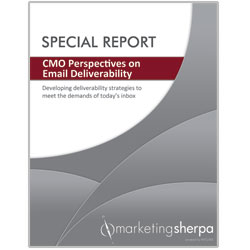 Subscribers cannot respond to emails that they don't receive. What this report makes clear is that CMOs recognize the importance of deliverability and the factors that influence it.
Jacksonville, FL (PRWEB) May 12, 2011
Do you know one in five permission-based emails never reach their recipient? According to Return Path, a provider of email certification, four percent end up in a spam filter and 16 percent just go missing. That's like throwing away 20 percent of your email marketing budget.
MarketingSherpa's just-released special report, CMO Perspectives on Email Deliverability, reveals the latest strategies that nearly 250 Chief Marketing Officers are using to ensure this doesn't happen to them.
One key finding is that 75 percent of CMOs report that their top tactic to improve deliverability is removing inactive subscribers. This best practice not only reduces email bounces, it increases open and click-through rates, making a positive impact on the sender's reputation.
Sixteen pages of data explore:

Today's greatest deliverability challenges.
Benchmark data and exclusive insight on how to build an effective email-deliverability strategy.
The best tactics for improving email deliverability such as removing inactive subscribers, reducing complaint rates and modifying email templates.
How to apply these tactics to specific market segments.
The critical roles of segmentation, timing and content.
CMOs' key objectives of 2011, such as creating emails that feel like personal conversations, executing triggered email campaigns that don't feel like email blasts, and ensuring emails still get delivered to subscribers.
To learn more or to purchase a copy, click here: http://www.sherpastore.com/CMOEmailDeliverability.html
"Return Path has long known that maintaining a high inbox placement rate (IPR) is the cornerstone of an effective, efficient email marketing program," says George Bilbrey, President, Return Path. "Subscribers cannot respond to emails that they don't receive. What this report makes clear is that CMOs recognize the importance of deliverability and the factors that influence it. Their attention to improving reputation metrics will pay off handsomely in increased open, click and conversion rates."
Media Contact: Bethany Caudell, MECLABS, 1-800-517-5531
About Marketing Sherpa
MarketingSherpa publishes practical Case Studies, Benchmark Guides, exclusive research, how-to instructional materials and eight content-specific newsletters for more than 237,000 content, email, inbound marketing, search, B2B and consumer marketing professionals each week. In its tenth year, the marketing research publisher has been praised by The Economist, Harvard Business School's Working Knowledge Site and Entrepreneur.com. Along with MarketingExperiments and InTouch, MarketingSherpa is part of the MECLABS Group, which offers marketers practical research data and information, professional training and networking summits.
About Return Path
Return Path makes email work better. We certify email senders from around the world. Our trusted sender registry protects brands and retains trust in the email channel. We help marketers, publishers and other large-volume email senders increase their response rates by providing the world's leading inbox deliverability solution. Return Path helps mailbox providers and email administrators at ISPs and enterprises block unwelcome and malicious email by providing near real-time IP reputation scores and other data-driven tools. Taken as a whole, these tools and services improve the consumer experience of email by protecting them from spam, phishing and other abuse. Return Path offers free access to Sender Score, the email reputation measure compiled through our cooperative data network of ISPs and other email receivers, at our reputation portal: http://www.senderscore.org. Information about Return Path can be found at http://www.returnpath.net.
###