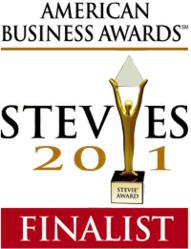 Chapel Hill, N.C. (PRWEB) May 12, 2011
American Support, a provider of support services for video, voice and data companies, has been named a finalist for four American Business Awards.
The Chapel Hill, N.C.-based company is in contention for:

Best Overall Company of the Year, up to 2,500 employees
Best Customer Service Department of the Year
Best Turnaround of the Year, up to 2,500 employees
Most Innovative Company of the Year, up to 2,500 employees
More than 2,800 companies from virtually all industries submitted entries for the awards, which are considered to be the nation's premier business award program.
"We are honored to be recognized as a finalist for these awards," said American Support President and CEO Matt Zemon. "This is a testament to the hard work, dedication and creativity our employees give everyday."
Finalists were chosen by business professionals nationwide during preliminary judging in April and May. Award winners will be selected from among the finalists in each category next week by members of 10 specialized final judging committees. More than 150 executives will have participated in judging this year. The winners will be announced during a gala on June 20 in New York City.
About American Support
American Support is a Chapel Hill, NC-based company whose mission is to help video, voice and data companies succeed by operating efficiently, consistently and with excellent customer service, making life better for its clients, employees, investors and families, while supporting its country. The company, which currently supports more than 400 cable systems in 29 states, provides billing, technical and customer support services to tiers 2 and 3 cable operators through a virtual call center operation. American Support is committed to hiring Americans and has employees in more than 115 cities in 26 states.
About the Stevie Awards
Stevie Awards are conferred in four programs: The American Business Awards, The International Business Awards, the Stevie Awards for Women in Business, and the Stevie Awards for Sales & Customer Service. Honoring organizations of all types and sizes and the people behind them, the Stevies recognize outstanding performances in the workplace worldwide. Learn more about The Stevie Awards at http://www.stevieawards.com.
###