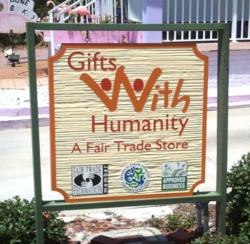 Consumers are ready for a new local and ethical shopping experience. Online is great but we want to be part of the actual community.
New Smyrna Beach, FL (PRWEB) May 23, 2011
Gifts With Humanity opened its first retail store Saturday May 14th 2011, also World Fair Trade Day. For the online retailer, this is the first retail bricks-and-mortar store and according to the cofounder Kevin Ward a test store with a view to opening more. The new store is based in New Smyrna Beach, Florida a small Central Florida coastal community. The logic for the location was driven by both proximity to the company's warehouses and the desire to demonstrate that room exists within the market for a community-oriented gift store.
With the growth in the Local movement and the community principles of fair trade, Ward sees a niche market for an ethical store that connects on a community level with small and midsized communities around the US. While this goes against all trends in the US retail sector where large superstores have destroyed communities, Ward believes that in the new ecconomy consumers are much more focused on local communities and ethical values when they shop.
Ward admits that this is somewhat of an experiment. While talking openly about two or three more stores this year, he also adds the, "let's see how it goes" caveat. Typically it is physical stores that design and launch websites not web based businesses that move in to physical stores. The process brought with it some specific challenges.
For Gifts With Humanity the challenge was how to translate a well developed and successful online brand into a physcial space. Taking a bold design from a web page and bringing it to life in a small community store of under 600 square foot was challenging. The team remained as true to the brand and the website design as possible, while painters and construction team were a little shocked at the color choices.The end result according to Ward is a great design that can be translated into almost any space, from small art communities to major shopping malls.
All Gifts With Humanity stores will donate 10% of revenue to local Good Causes as the online store does. Ward belives that out of the recent pain of the recession, communities nationwide are looking for reinvent the shopping experience, with local connections and strong values. Time will tell.
Gifts With Humanity is a brand of Global Fair Trade Crafts Inc. Founded in 2002 by Kevin Ward and Renice Jones after retuning from a 3 year volunteer placement in Kenya. Members of The Fair Trade Federation and the World Fair Trade Organization. Ward served as chair of the Fair Trade Federation from 2009 to 2011.
###