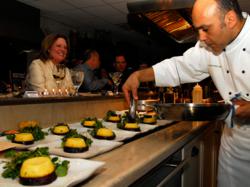 I want to make cooking fun and a focus of our daily lives
Milwaukee, WI (PRWEB) May 12, 2011
The Webster dictionary defines obesity as "a condition characterized by the excessive accumulation and storage of fat in the body." "From my culinary viewpoint," explains Chef Michael Feker, "obesity is the consumption of unhealthy food, filled with ingredients and additives that our bodies cannot properly digest and reserve. Over 150 million school-aged children are obese and over 1.5 billion adults are obese." In 2000, health-care costs related to obesity totaled over $117 billion; while the food and beverage marketing industry spent 1.6 billion dollars advertising to children and adolescence.
These startling statistics drove Chef Feker's initiative to get people cooking again. Feker has asked the public to share their cherished family recipes with him online at http://www.FamlyRecipeRevival.com. "In the 1950s, Americans spent about two hours preparing their dinners. Today we rush through our days and spend less than 30 minutes preparing our dinners, if we even make them ourselves. I want to make cooking fun and a focus of our daily lives," says Feker.
It takes three minutes to scramble an egg that contains less than 70 calories; it provides essential amino acids and is a great source of protein. A visit to a fast food restaurant provides a meal that typically exceeds 1,000 calories and contains additives that the human body does not know how to process. Feker's Family Recipe Revival was designed to help parents "get back to the dinner table and to bring those beloved family recipes to the forefront of our culinary minds. My ultimate goal with this competition is to get families involved in preparing their meals and empower them to lead healthier lives."
About Chef Michael Feker and IL MITO
Chef Feker is a culinary innovator who has made it his mission to get people back to the dinner table: from his restaurant, IL MITO Enoteca, born from Feker's passion for a local restaurant comparable to those he frequented in Italy - a comfortable home away from home, where his guests can sip a great glass of wine, complemented by an incredible, rustic Italian cuisine made of the simplest, freshest, highest-quality ingredients; to his state-of-the-art cooking school, CMF's School of Culinary Magic where he hosts monthly gourmet beer and wine tastings, hands-on and demonstrational luncheons and dinners, as well as private lessons for individuals or couples. To learn more about this event and other culinary opportunities, explore http://www.ilmitocooking.com.
Keep up to date on Twitter and Facebook at: http://twitter.com/cheffeker and http://www.facebook.com/pages/IL-MITO-ENOTECA/10304511
IL MITO is located in Wauwatosa at 6913 W. North Avenue. Lunch is served Tuesday through Saturday 11:00am to 2:00pm; Sunday Brunch with Bloody Mary Bar 10:00am to 2:00pm; Dinner: Tuesday through Thursday 5:00 to10:00pm, Friday and Saturday 5:00pm to 11:00pm and Sunday 5:00pm to 9:00pm. Reservations can be made online at: http://www.ilmito.com or by calling 414-443-1414.
# # #