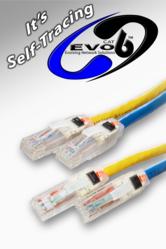 Austin, TX (PRWEB) May 14, 2011
The IAUG Global Conference, the first of its kind, will run from May 22nd through May 26th . Visitors can preview Mertek's latest products at Booth 1106 in the Milano Ballroom.
The EVO6 Patch Cord provides a time-saving alternative to hand tracing for both large and small projects, and with the announcement of a self-tracing fiber optic cable this event will showcase the evolving innovations Mertek has been bringing to the communications industry for more than ten years.
The EVO6 Patch cord is a standalone product. There is no additional software to purchase and no hardware or external power source required. Mertek's EVO6 Patch Cord comes equipped with a Trace Button and an LED light in each of its plugs. One press of either trace button starts the LEDs on both ends flashing, making swift and easy identification of the cable possible.
As an OEM/ODM supplier for Avaya this ISO9001 approved manufacturing company has gained an industry wide reputation for providing quality products that exceed customer's expectations.
After having been formed in 2010 the IAUG combines the previous Avaya and heritage Nortel user groups into one of the world's largest international organizations for communications technology professionals. As the forum for the global Avaya customer community, IAUG provides a voice and resource for Avaya customers everywhere.
This powerful international group of users has spent more than two decades providing advocacy, networking and education to Avaya customers worldwide who are looking for a partner that enables them to share their voice, improve their knowledge, protect their investments and influence product development and service delivery.
Visitors are encouraged to visit Booth 1106 in the Milano Ballroom for more information about Mertek Industries EVO6 Self-tracing patch copper cable and details on the recently announced Fiber Optic version.
EVO6 Features:

Meets Category 6 component specifications TIA/EIA-568-B.2-1
Each cable is factory tested and certified for Category 6 performance
Plug targets TIA center values, paired bi-level contact array
Precision performance stranded conductor cordage
Compatible with both T568A and 568B wiring
Snag free plug design also provides superior bend relief
Stocked in 8 standard colors
Backward compatible to Category 3, 5 and 5e
Mertek Industries has been providing innovative communication products for over ten years, and is a ISO9001 approved manufacturing company. As an OEM/ODM supplier for Avaya. Mertek has become known for adding simple but effective twists to many products.
# # #