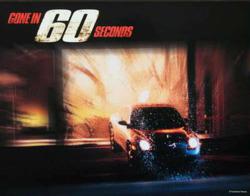 Hollywood, CA (PRWEB) May 12, 2011
At 6PM (EST) today for the first time ever, Denice Halicki will "Auction Off" on EBay Motors the famous "Gone in 60 Seconds" "Tina" the 911/996 Porsche stunt picture car. "Tina" is the "hot-wired" start-up button for the Gone in 60 Seconds 2000 film starring Nicolas Cage, Angelina Jolie, Robert Duvall, and Giovanni Ribisi, produced by Jerry Bruckheimer and directed by Dominic Sena.
There is only one "Gone in 60 Seconds" "Tina". She has been "celebrated" in the movie, trailers, media press photos and lobby cards (see photo.) "Tina" has the number "1" job to kick-start this fuel-injected film, when "Kip Raines" (Giovanni Ribisi) smashes the Porsche dealership's glass door with a brick, they race inside and "Mirror Man" reads off "Tina's" stock number "42850" to Kip. Then with keys in hand, they jump into "Tina" and crash through the Porsche dealership's front glass window. Soon after, Kip's careless ways gets "Tina" in a full-throttle street race that ends up leading the police to the warehouse full of boosted cars. Now with Kip's life is in the hands of an evil mobster. Legendary car booster "Memphis Rains" (Nicolas Cage) comes out of retirement to save his brother's life.
"Tina's" legacy and her tribute to H.B. Toby "Car Crash King" Halicki and his 1974 "Gone in 60 Seconds" film is she was the first to put the "pedal to the metal" and crash through something. Director Sena also knows about "crashing things up" and the "Car Crash King" because Sena worked as a cameraman on Halicki's second film "The Junkman." ("The Junkman" is in Guinness Book of Records for crashing over 250 cars, trucks, motorcycles and airplanes in one movie.)
Now you can own a piece of automotive/movie history!
Go to http://www.motors.ebay.com type in "Gone in 60 Seconds Tina" for info, photos & videos on "Tina'" and the rare memorabilia like the 22-ft long by 12-ft tall "Gone in 60 Seconds" billboard poster or go to http://www.gonein60seconds.com
Please Contact: Sal Chala
Email: malibuebay(at)gmail(dot)com
Phone: 310-356-8647
###