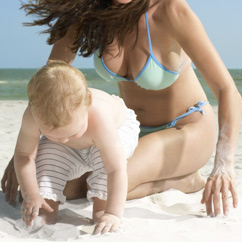 "Pregnancy can take a significant toll on the body, particularly if you have a baby later in life. The procedures we offer make it possible for women regain their shape with fewer incisions and less downtime."
Pittsburgh, PA (PRWEB) May 16, 2011
Women around the country are choosing "mommy makeovers" to look their best and feel more self confident as they re-enter the workforce after having children. Mommy Makeovers, a term that comprises cosmetic plastic surgery procedures such as breast enhancement surgery with or without breast implants, tummy tucks (abdominoplasty), liposuction surgery, SmartLipo™ laser liposuction body contouring surgery and minimally invasive and non-invasive procedures such as skin tightening, stretch mark removal, varicose vein and spider vein removal and cellulite reduction treatments are helping women reclaim their pre-pregnancy bodies with less downtime than ever before.
According to the American Society of Plastic Surgery (ASPS), 2.37 million surgical and minimally-invasive cosmetic procedures were performed on patients between the ages of 30 and 39 in 2010. From 2000 to 2010, the total number of breast lift procedures among all women, all ages, went up by 70 percent. Breast enhancement surgery among all women increased 39 percent; tummy tucks(abdominoplasty) increased by 86 percent; and Botox Cosmetic®, including Dysport®, increased by 584 percent in that same time frame.
At the same time, newer, minimally invasive cosmetic procedures such as SmartLipo™ Laser Liposuction, Thermage™ Skin Tightening, and Fraxel ® laser skin resurfacing for stretch mark removal are delivering outstanding results.
Dominic Brandy MD, board certified cosmetic surgeon and founder of The Skin Center Medical Spa, has helped hundreds of mothers feel more confident about themselves and their appearance.
"At The Skin Center, we are seeing an increasing number of women who have had babies in their 30s and 40s," says Dr. Dominic Brandy. "Pregnancy can take a significant toll on the body, particularly if you have a baby later in life. The procedures we offer make it possible for women regain their shape with fewer incisions and less downtime."
At The Skin Center, the most requested mommy procedures are breast implants with or without a "breast lift"; tummy tuck surgery to tighten muscle and eliminate redundant skin on the abdomen; and SmartLipo™ Laser Liposuction, a minimally invasive procedure which permanently dissolves fat and tightens skin. SmartLipo Laser Liposuction utilizes a very thin cannula and laser to quickly melt stubborn pockets of body fat. SmartLipo Laser Liposuction is performed with local anesthesia, and depending on the area treated, can be performed in less than an hour. And because the cannula is so small, no sutures are needed.
"An added benefit of SmartLipo™ Laser Liposuction is that it tightens the overlaying skin through thermal heating and tissue coagulation, something traditional liposuction cannot do," says Dr. Brandy. "Most patients are able to return to their daily routines, with slight modifications to strenuous activities, almost immediately."
Also popular is Thermage™ Skin Tightening a body contouring skin treatment that uses patented deep-heating radiofrequency (RF) technology to stimulate existing collagen and promote new collagen growth. Thermage Skin Tightening delivers significant skin tightening and body contouring results with no surgery, no injections and no downtime.
And for those looking to address post-pregnancy stretch marks, Fraxel ® Laser Skin Resurfacing can help to fade or remove stretch marks without the downtime or redness associated with other laser skin resurfacing treatments.
"When we meet with a prospective client, we take as much time as needed to discuss their options and identify the procedures that will deliver the best and most natural results for them," says Dr. Brandy. "The feedback I hear most often is that they wish they'd come to us sooner."
About The Skin Center Medical Spa
The Skin Center Medical Spa, with three locations in Pittsburgh, Pennsylvania and Columbus, Ohio, is the region's premier, full-service medical spa offering the latest advancements in non-invasive and minimally invasive skin rejuvenation for the treatment of aging skin, hyper-pigmentation, rosacea, unwanted hair, varicose and spider veins, active acne and acne scarring. The Skin Center Medical Spa was founded in 1981 in Pittsburgh by Dominic Brandy, MD, board-certified cosmetic surgeon.
# # #