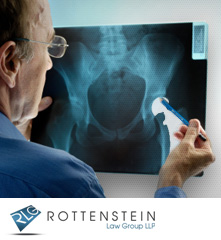 New York, NY (PRWEB) May 16, 2011
As a result of intensive analysis of the factual and legal circumstances of the DePuy Pinnacle situation, lawyers of the Rottenstein Law Group have concluded that in states where the applicable statute of limitations for filing a claim against DePuy for personal injuries caused by faulty Pinnacle devices is one year, that year might lapse as soon as July 2011. RLG anticipates that DePuy will argue that a victim's time to sue began in July 2010, when the widespread problems plaguing recipients of DePuy's other faulty metal-on-metal replacement hip devices, the ASR system, first became known by the public.
Following this news, in August 2010 the U.S. Food and Drug Administration (FDA) requested a recall of DePuy's ASR hip replacement systems, due to a much higher than industry-accepted estimated failure rate of 12% within five years of the initial replacement surgery. The FDA had predicated its quick approval of DePuy's ASR devices for sale in the United States on the device's substantial similarity to another DePuy product, already approved for sale—the Pinnacle hip replacement system.
Now the FDA is receiving complaints about the older Pinnacle system—to date more than 1,300 negative reports, most of them related to the device coming loose, leading to severe pain when the recipient performs simple tasks. There is another problem with the Pinnacle system, though: A study published in December and reported by the New York Times has shown that due to the composition of the Pinnacle system, metal may flake off the device and embed itself in the surrounding tissue of the recipient, which puts the person at risk of developing metal poisoning.
The recall of the ASR system prompted many DePuy product recipients to investigate what devices they received, in some cases learning that their implant was not an ASR but a Pinnacle unit, which has similar flaws. In jurisdictions where the time to commence a lawsuit for damages resulting from personal injury caused by a defective product is one year—and that year begins when the cause of the injury is discovered—an argument can be made that the time to sue will elapse in July 2011. Accordingly, the Rottenstein Law Group is imploring anyone with a friend or relative who has received a hip replacement device to reach out to that person and recommend that he or she consult a physician immediately and then speak to a qualified personal injury lawyer without delay.
The Rottenstein Law Group maintains a DePuy Pinnacle Lawsuit Information Center at http://www.depuypinnaclelawsuit.com. The site has features that allow for easy sharing, including links for automatic posting on Facebook and Twitter, specifically to enable visitors to spread the word about the DePuy Pinnacle failures.
About THE ROTTENSTEIN LAW GROUP
The Rottenstein Law Group is a New York-based law firm that represents clients in mass tort actions. The firm was founded by Rochelle Rottenstein, who has more than two decades of experience as a lawyer, to represent clients in consumer product injury, mass tort, and class action lawsuits in a compassionate manner. http://www.rotlaw.com
Contact:
The Rottenstein Law Group, LLP
Rochelle Rottenstein, Esq.
1259 Veeder Drive
Hewlett NY 11557
(212) 933-9500 (office phone)
(212) 933-9980 (facsimile)
rochelle(at)rotlaw(dot)com
http://www.rotlaw.com
# # #