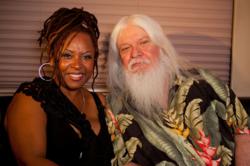 Yountville, CA (PRWEB) May 12, 2011
On Friday May 6th, radio star and philanthropist Robin Quivers along with her 15 Foundation hosted the first annual "Its For The Kids" Dinner and Concert in the Napa Valley to benefit two formidable local youth charities, the Edible School Yard in Berkeley and the Connolly Ranch in the Napa Valley. Both organizations are dedicated to teaching children about good food nutrition and establishing the right eating habits early in life to help set a pattern for success. Robin has worked tirelessly over the past few years for the 15 Foundation – even running the New York Marathon this past November to support every child's right to a high quality education.
Robin Quivers comments, "I am overwhelmed by the outpouring of love and support that the Foundation has been the recipient of in its short life. I am very proud of the work that this support has enabled us to do and humbled by the dedication of the Edible Schoolyard and the Connolly Ranch.
Pictured in Photo: Radio personality Robin Quivers and music icon Leon Russell
The sparkling night in the Napa Valley began with a VIP dinner at the V Marketplace/Villagio Inn and then moved on to the Lincoln Theater in Yountville where rock n' roll icon Leon Russell took the stage. Though the night's events and the corresponding online auction still running through May 18th on CharityBuzz.com are raising major contributions for the Edible School Yard and the Connolly Ranch, the musical moments throughout the night were truly priceless. Among the highlights was newly inducted Rock & Roll Hall of Famer, Leon Russell –one of main subjects in Cameron Crowe's new documentary "The Union" which just premiered at the Tribeca Film Festival – dedicating a song to Robin Quivers after bonding with her on the tour bus prior to the event. There were more special moments when the 6-year-old children from the Connolly Ranch performed their original song and then middle school children from Berkley premiered an original video that was created with MIMA Music, an organization that brings music-making workshops to inner-city youth. The students wrote and recorded the music performed in the video in just 8 hours with many of them having never played an instrument before.
The original MIMA video, sponsored by the 15 Foundation, can be viewed here: http://www.youtube.com/watch?v=9JxHeKU9hLE&feature=channel_video_title
Visit the CharityBuzz auction here for unique celebrity auctions until May 18th: http://www.charitybuzz.com/auctions/15foundation
For more information, please visit http://www.15foundation.org/
Press Contact:
Lois Najarian
The Door
646 831 0745
Lois(at)thedooronline(dot)com
###