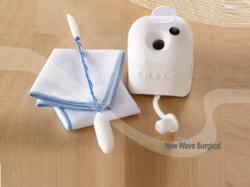 This achievement is a testament of the real value that the product brings to surgeons and operating room staff
Coral Springs, Florida (PRWEB) May 16, 2011
New Wave Surgical Corp., the developer of the innovative Advanced Laparoscopic Care Kit with D-HELP to help medical professionals easily defog and clean laparoscopic and robotic camera systems, announced today that its device has been now used in more than 100,000 surgeries in hospitals all over the U.S.
"This milestone is truly remarkable," said Alexander Gomez, Founder and President of New Wave Surgical Corp. "Equally impressive is the fact that our reorder rate with customers is over 90% which is a further endorsement of our system and its value to the surgical team."
The New Wave Surgical Advanced Laparoscopic Care Kit with D-HELP increases the efficiency of surgeons by requiring only one hand to clean laparoscopic camera lens. It also increases patient safety because it enables better images by eliminating the fogging of the device while ensuring accurate white balanced images. .
"This achievement is a testament of the real value that the product brings to surgeons and operating room staff," Gomez said. "Our technology increases surgeon efficiency as well as patient safety in the operating room."
New Wave Surgical developed its patented Advanced Laparoscopic Care Kit with D-HELP and launched it three years ago to enable laparoscopic and robotic surgeons to improve visualization and conveniently clean, defog and white balance their laparoscope lens. The device was invented by a Surgical Technologist and New Wave Surgical's first office was in a NYC medical school dormitory
About New Wave Surgical Corp
New Wave Surgical Corp. is a medical device visualization company incorporated in 2006 to design, patent, and market medical devices for the laparoscopic and endoscopic surgical markets. The development of New Wave Surgical's™ devices was accomplished with the participation of leading surgeons, surgical residents, and operating room staff. New Wave Surgical's™ medical devices are sterile intra-procedure disposable units that all complement each other to provide a complete visualization improvement solution for the entire endoscopic market.
For more information about New Wave Surgical and its Advanced Laparoscopic Care Kit with D-HELP please check out its website at http://www.newwavesurgical.com.
# # #