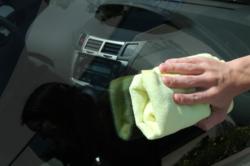 Remove tar from your car by spreading mayonnaise on the paint and letting it sit for 5-10 minutes., then wipe off the tar is gone. The natural oil in mayo lifts the tar without damaging paint.
Bellflower, Calif. (May 12, 2011) (PRWEB) May 12, 2011
Winter and Spring 2011 had some of the strangest weather on record in the United States. From record snow in the Northeast and record rainfall in the West, to tornados and thunderstorms in the Midwest, your car can take a serious beating. A vehicle is most people's second largest investment - and it's critical to keep it clean to maintain long-term value. Before you hit the road for a summer road trip, invest a little time, elbow grease and mayo to maintain your car's appearance and value.
Wait - mayo? Everyone knows the basics—washing, waxing, vacuuming… but did you know that you can use mayonnaise and common lighter fluid to remove certain types of residue?
International AERO Products - one of the world's largest aircraft detailing companies - is tasked with maintaining the custom interiors and paintjobs it creates for private aircraft built for CEOs and royal families. AERO now offers a complete line of car care products adapted from lessons learned in the aviation industry, and some may surprise you. AERO has assembled a list of 10 unique tips and tricks for detailing your car—using everything from mayonnaise and lighter fluid, to socks and paper towels.
1. Tar removal: Remove tar from your car (often found on fenders behind the wheels from road construction) by spreading mayonnaise on the paint and letting it sit for 5-10 minutes. Wipe off the mayonnaise and the tar is gone. The natural oil in mayo lifts the tar without damaging paint.
2. Paint transfer: To remove paint transfer from minor scrapes with other cars, fences, etc., wet a towel with common lighter fluid and lightly dab the surface, wetting the area for 20-30 seconds. Then, rub the surface lightly and the transferred paint/color will disappear. Don't worry, it won't harm your cured paint, it just breaks down the bonds between the two paints there. Be careful because it is extremely flammable!
3. Adhesive removal: Time to remove those pesky stickers or decals you've had for years? Again, lighter fluid is a great option as it breaks down the adhesive bonds; follow the same steps as above for paint transfer. This works on glass as well as painted surfaces.
4. Ink removal: It can be very frustrating when you leave a pen in your pocket and write on new leather seats. To remove ink from leather, dampen a Q-tip with cuticle remover and lightly rub the surface. The ink will be gone in seconds. Just remember to try a spot under the seat first, to make sure the dye in your leather is color-fast and won't bleed.
5. Streak free windows: Here's a simple trick to get your window's truly streak free. When you're cleaning the exterior of your windows wipe in an up-and-down motion. When cleaning the inside of the windows, wipe in a side-to-side motion. When you are finished, if there are any streaks, you'll be able to target them by knowing which side of the window they are on, depending on which direction the streaks go.
6. No water spots: After washing and rinsing your car, remove your spray nozzle from the hose and let the water flow from the hose to cover the entire car. You'll notice the water will sheet off the paint and as a result, there will be less water on the paint to have to dry off. This allows you to dry your car more quickly, use fewer towels, and reduce the chance of having water spots.
7. End Leaky Mirrors: Even after a careful car wash, it can be very irritating when your side mirrors leak water all over the doors and leave water spots. To prevent this, after washing and drying your car, fold up a paper towel six times into a wedge shape and slide it in around the perimeter of the mirror between the glass and the plastic housing. This will soak up the water.
8. Pristine wheels: Use an old (or new) tube sock to clean your wheels. This will protect your hands from corrosive brake dust, and makes it easier to clean tough to reach edges and corners that are hard to reach with a brush. Put your hand in the sock, soak up soapy water and scrub.
9. Seat & Carpet Stain removal: Never scrub a stain in a side-to-side motion, it just pushes the contamination into the carpet fiber. Instead, tamp it! Tamping is a technique that breaks up the stain without abrading the fabric, perfect for durable, tightly woven fabrics like automotive carpet and upholstery. Quickly and repeatedly rap (strike) a stain with a tamping brush (available at most big box stores) until the stain is removed. You'll know you are using too much pressure if the bristles on the brush bend.
10. Spotless carpets: After shampooing your carpets, clean them a second time with only plain water to rinse the carpet more thoroughly of soapy residue. Soap acts like a dirt magnet, so if you don't follow your cleaning with a rinse only step, your carpets will get dirty again— quickly!
About International Aero Products:
AERO products have been designed to withstand the most extreme environments on earth. From airfield surface temperatures that can reach 120 F to a frigid -60 F at 50,000 feet above the earth. Until now, AERO products have only been available to the aerospace industry for maintaining the world's most exclusive aircraft. We offer a wide selection of quality tested and approved cleaning, polishing, protective coating and detailing products for all of your vehicle's maintenance needs. Call us today for a sales representative in your region, (800) 337-WASH or go to InternationalAeroProducts.com.
# # #