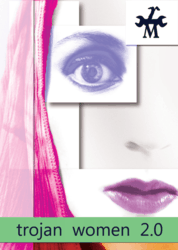 DC Arts Center
2438 18th Street NW DC
May 13, 14, 20 @ 10:00 and 21 @ 3:00.

Bonifant Theatre Space
949 Bonifant Street
Silver Spring, MD 20910
June 3 & 4 @ 8 PM
Washington, DC (PRWEB) May 13, 2011
The Rude Mechanicals, DC's No-Holds-Bard alternative classical theater company, is taking on a new challenge with a cutting-edge contemporary work. Best known for their lively and inventive reimaginings of Shakespeare's plays, from a heavily postmodern "Antony and Cleopatra: Snakes in a Play" to "King John" done as a Monty Python style satire, the Rudes are gearing up to take on an older classic in an entirely new vein. Charles L. Mee's gorgeous, radical reconstruction of Euripedes' "Trojan Women" is a perfect vehicle for a growing company that isn't afraid to experiment.
The Rudes are starting off by making an advantage of a traditional disadvantage: like a good many theater companies in the DC area, the Rudes don't have their own space, and they rent local black box theaters for their performances. So rather than trying to transform a rented space, the space will become the set.
"The theater is a shelled-out holding pen for female prisoners, in the aftermath of the Trojan War," Jaki Demarest, the director, explained in a recent interview. "The city outside is in ruins; a dirty bomb codenamed 'Trojan Horse' turned it into a nuclear wasteland a week ago. The audience members and actors are lucky, after a fashion; they survived."
Like prisoners in Newgate, or passengers on a Holocaust train, audience members pay an entry fee, an odd, forced collusion in their own fate, as if imprisonment, forced labor, starvation, rape, torture and slaughter were subjects for a holiday excursion.
Soldiers will usher the audience into the theater, politely and professionally, but there's no going back. The soldiers control every element of the holding pen: who comes in, who leaves, when and for how long the lights go out, who gets blankets, who gets fed. They don't allow the audience to talk to the women, though the women will almost certainly be talking to the audience. (It is Charles Mee, after all.) When the lights go out and the radio signals phase out for the evening, they whisper their stories to each other.
Fair warning: the content is very adult, and this one's recommended for ages 18 and up.
About the Play
Charles L. Mee's Trojan Women 2.0 is an exploration of the effects of war on women, with poetry, with songs, crafted like one of Max Ernst's Fatagaga pieces: incorporating shards of the modern world to lie, as in a bed of ruins, within the basic frames of Euripedes' original works, Trojan Women and Hecuba.
Trojan Women started as an act of pure theatrical rebellion, scold and scourge of warmongers, giving voice to those who might otherwise have none, and in Charles Mee's hands, it remains that way.
Performance Dates
DC Arts Center
2438 18th Street NW
Washington, DC 20009
May 13, 14, 20 @ 10:00 and 21 @ 3:00.
(202) 462-7833
Bonifant Theatre Space
949 Bonifant Street
Silver Spring, MD 20910
June 3 @ 8 PM and midnight, June 4 @ 8 PM.
Information and reservations:
http://www.rudemechanicals.com
$15 General Admission, $13 Seniors/Students
Warnings for adult content.
# # #