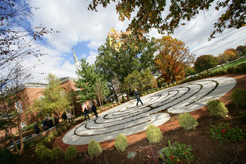 While we know intuitively that nature heals, unifies and uplifts the human spirit, we believe there is growing need to develop empirical evidence in order to gain wider acceptance, advance understanding, influence policy and effect systems change.
Annapolis, MD (PRWEB) May 16, 2011
The TKF Foundation today announced a new $5 million grant program, the National Open Spaces Sacred Places Awards (OSSP Awards), to fund cross-disciplinary teams of designers, research social scientists and community-based organizations to create and study a series of new public green spaces designed with the specific intent to provide spiritual uplift and the opportunity for a deeper human experience through a personal connection to nature. The OSSP Awards program will be the foundation's final grant making initiative and will effectively spend down TKF's endowment by 2018.
In announcing the grant opportunity, Tom Stoner, president of the Annapolis, MD-based TKF Foundation said, "In a time when we are more and more surrounded by the built world, beset by ever increasing stress and overwhelmed by technology, the need for open, sacred places in nature is more important than ever. Every neighborhood needs a place where people can be in nature and reconnect to themselves, to the land, and to each other. In order to make this vision a reality, we must document and communicate the transformational impact these spaces can have on individual lives and communities." Stoner is also the author of the 2009 book, Open Spaces Sacred Places.
By 2030 nearly two-thirds of the world population will live in urban environments. In 2008, more than 80% of the United States population was already there. While more public green spaces are being built every day, a gap exists in the understanding of the impact these spaces have on the human spirit, individual and community well being.
The Open Spaces Sacred Places Awards Request for Proposals (http://www.opensacred.org/grants) invites national partnerships of the highest caliber to apply. Universities, hospitals, research centers and cultural institutions; professionals in the field of landscape design, urban planning, and health care; and neighborhood associations, community-based and other social benefit organizations are encouraged to form collaborative teams to envision, create, study and communicate what is learned about the impact of Open Spaces Sacred Places on people living in stressful urban environments.
Funding will be enacted in two phases:
•Up to 10 planning grants will be awarded on December 15, 2011. Participation in the planning grant round is optional. Deadline for application for a planning grant is September 1, 2011.
•Open Spaces Sacred Places Awards will be announced on December 15 2012. The Open Spaces Sacred Places RFP will be issued February 12, 2010. Deadline for application for a National Open Spaces Sacred Places Award is June 30, 2012.
The TKF Foundation was created in 1996 by Tom and Kitty Stoner to provide the opportunity for a deeper human experience by inspiring and supporting the creation of Open Spaces Sacred Places, public green spaces that offer a temporary place of sanctuary, encourage reflection, provide solace, and engender peace and well being. Since TKF's founding, 130 Open Space Sacred Place sites have been created across the Baltimore-Annapolis-Washington, DC region. Visit http://www.OpenSacred.org for a list of sites and their locations.
# # #