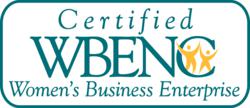 Our WBE re-certification complements what we deliver to our clients...legendary service, expertise & enabling technology to solve their most pressing independent contractor compliance & management chall
Foster City, CA (PRWEB) May 17, 2011
ICon Professional Services, the nation's oldest and leading provider of independent contractor (IC) compliance, risk assessment and management solutions, received the national re-certification as a Women's Business Enterprise by the Astra Women's Business Alliance, a regional certifying partner of the Women's Business Enterprise National Council (WBENC).
WBENC's national standard of certification implemented by the Astra Women's Business Alliance is a meticulous process including an in-depth review of the business and site inspection. The certification process is designed to confirm the business is at least 51% owned, operated and controlled by a woman or women.
By including women-owned businesses among their vendors, corporations, and government
agencies demonstrate their commitment to fostering diversity and the continued development
of their supplier/vendor diversity programs.
"Our WBE re-certification complements what we deliver to our clients," said Patricia Griffin, CEO and Founder of ICon. "Under this designation, we are proud to continue to provide them with legendary service, expertise and enabling technology to solve their most pressing independent contractor compliance and management challenges."
ICon was first certified as a women-owned business in 2002.
About ICon Professional Services
Founded in 1997, ICon is a national provider of Software as a Service (SaaS) solutions for independent contractor compliance, risk assessment and consulting, contractor invoice management and payroll and benefits management. ICon's compliance professionals have specific domain expertise in the federal and state rules regulating the classification of 1099/independent contractors and assisting clients with related tax filings and compliance reporting. ICon clients have achieved a perfect record of success in tax audits and avoided more than $100M in state and federal penalties by relying on the company's unrivaled ICverify® worker classification solution. For additional information, contact ICon headquarters in Foster City, California, at (888) ICon Yes (888 426-6937), or visit the company's web site at http://www.icontract.com.
About WBENC
The Women's Business Enterprise National Council is the nation's largest third party certifier of businesses owned and operated by women in the United States. WBENC is a resource for the more than 700 US companies and government agencies that rely on WBENC's certification as an integral part of their supplier diversity programs.
###