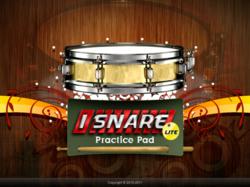 (PRWEB) May 13, 2011
You can't stop the beat. Literally. Eric Riccio, creator of iSnare Practice Pad, has released a free version of his original application. The new version of the app, titled "iSnare Practice Pad Lite," allows consumers to test-drive the app before purchasing.
Similar to iSnare Practice Pad, the lite version is a new and convenient iPad drum simulator app for the musically inclined or someone just looking to rock out. Whether a downloader is training to be the next Led Zeppelin drummer or simply looking to dabble in something new, this application appeals to all and costs nothing to use.
So long to the days of band practice in the confines of a basement; now with iSnare Practice Pad Lite, users can hone their skills virtually and create musical art anytime, anywhere. The iPad screen is also sizable enough to emulate a real snare drum, giving users the option to utilize both hands and fingers simultaneously.
In a quiet area? No problem. Consumers even have the option of plugging in headphones. Also, unlike standard drum pads, iSnare Lite offers a "rock" tone, which is one of four tones featured on the full iSnare Practice Pad app.
The iSnare Practice Pad Lite, both marketed and engineered by app development company Zco Corporation, is also cost efficient. Now, instead of spending significantly more money on a traditional drummer practice pad, users can create brilliant sounds without incurring debt. Whoever said artists had to be starving, anyway?
"As a musician and educator in the digital age, it is of paramount importance to intermingle technology with the musical arts," states Riccio. "This app certainly offers the best of both worlds while being convenient and free."
The iPad app's free version is available on iTunes at http://bit.ly/llMNvg; the full version is also available on iTunes at http://bit.ly/m47x2R for only $.99!
###