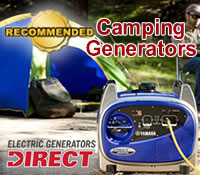 These portable inverter camping generators use cutting edge technology to regulate their fuel usage directly to the amount of power you need
Bolingbrook, Il (PRWEB) May 13, 2011
Today, ElectricGeneratorsDirect.com announced their recommendations for top portable camping generators.
"These portable inverter camping generators use cutting edge technology to regulate their fuel usage directly to the amount of power you need," said Jim Baugher, resident product expert at Electric Generators Direct. "Using up a smaller amount of fuel depending on your needs can be a great way to lessen the exhaust production, keeping the planet a little less polluted."
According to Baugher, most retailers are loyal to whatever camping generators are on their shelves.
ElectricGeneratorsDirect.com, however, isn't your ordinary retailer. The online superstore specializes exclusively in electric generators and carries more than 315 models from many leading brands.
The online retailer combined retail prices, recent sales history, customer reviews and personal insight to generate their final recommendations.
Once the dust and data settled, only 3 compact camping generators and 3 small camping generators sold by ElectricGeneratorsDirect.com were given their prestigious "Recommended" status.
Top Compact Camping Generators
Good - Honeywell HW1000i - 900 Watt Portable Inverter Generator
Better - Yamaha EF2000iS - 1600 Watt Inverter Generator
Best - Honda EU2000i - 1600 Watt Portable Inverter Generator
Top Small Camping Generators
Good - Generac iX2000 - 2000 Watt Portable Inverter Generator
Better - Yamaha EF2400iSHC - 2000 Watt Inverter Generator
Best - Yamaha EF3000iSEB - 2800 Watt Inverter Generator w/ Boost Technology
In addition, Baugher personally wrote online reviews for each camping generator, explaining why the company recommended it.
By providing the recommendations and reviews, ElectricGeneratorsDirect.com hopes to arm shoppers with enough ammunition to pick the perfect camping generator for their needs.
Power Equipment Direct operates nine niche online superstores. In addition to ElectricGeneratorsDirect.com, the Bolingbrook, IL-based company operates AirCompressorsDirect.com, PressureWashersDirect.com, SnowBlowersDirect.com, MowersDirect.com, WaterPumpsDirect.com, SumpPumpsDirect.com, ChainSawsDirect.com and LogSplittersDirect.com
###