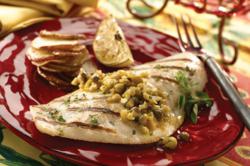 Baltimore, MD (PRWEB) May 13, 2011
Most diets come and go. Do you remember the Cabbage Soup Diet or the Chocolate/Popcorn Diet? Far from being the latest diet fad, the Mediterranean Diet (or Med Diet) has earned its place as a tradition worth embracing. In fact, May is Med Diet Month, the perfect time to embrace this flavorful way of eating that focuses on taking the time to enjoy wonderful, fresh, healthy foods with family and friends.
Beyond being a celebration of many different wholesome foods found from Spain to the Middle East and then back along the sea to Morocco, the Mediterranean Diet has been shown to reduce the risk of heart disease and may also play a role in reducing other types of chronic diseases.
What makes it such a healthful way of eating? According to Registered Dietitian and Certified Diabetes Educator Laura Coti Garrett, MS, RD, CE who is an advisor to Pompeian Olive Oil, "For starters, eating a diet rich in plant-based foods, such as vegetables, fruits, whole grains, beans and nuts provides an abundance of micronutrients, antioxidants, vitamins and minerals. These foods are also high in fiber which can help reduce cholesterol levels and slow digestion, which promotes good blood sugar control and makes your meals more satisfying."
Embracing the Med Diet is all about making some simple but profound changes in the way you eat today, tomorrow and for the rest of your life. Every day, eat mostly whole grains, fruits, vegetables, beans, herbs, spices, nuts and peanuts.
According to Garrett, another key feature of the Med Diet is replacing saturated fat such as butter with unsaturated fats, from foods such as olive oil, fish, nuts and avocado – doing so has been shown to reduce cholesterol levels. In addition, the Mediterranean Diet encourages getting plenty of regular exercise which helps decrease the risk of many chronic diseases.
"Remember, the Mediterranean Diet is not a 'diet' that uses deprivation or forbidden foods to produce results," stated Garrett. "Rather, it is a lifestyle that encourages eating and appreciating good food in addition to being physically active on a regular basis."
To learn more about the Mediterranean Diet, visit the Healthy Lifestyle section at pompeian.com. Then start grilling, sautéing, baking, roasting and making wonderful salads with Pompeian Olive Oil.
Grilled Red Snapper with Green Olive Tapenade and Red-Skinned Potatoes – Serves 4
Ingredients:
1 lb. small red-skinned potatoes, halved
1 Tbsp., plus 4 tsp. Pompeian Classic Olive Oil
4 red snapper fillets (6 ounces each)
2 tsp. marjoram leaves, finely chopped (or 1 tsp. dried)
4 lemon wedges
Sea salt or kosher salt, and freshly ground black pepper, to taste
Juice of 1/2 lemon
Green Olive Tapenade:
1/2 cup green olives, pitted and chopped
1 Tbsp. capers, drained
1 clove garlic, finely chopped
Grated zest of one lemon
1/2 cup Pompeian Extra Virgin Olive Oil
1 tsp. fresh marjoram leaves, finely chopped (or 1/2 tsp. dried)
Freshly ground black pepper, to taste
Preparation:
1. To prepare tapenade, combine all ingredients in the bowl of food processor. Pulsate several times until mixture is finely chopped and blended. Transfer to a bowl.
2. Place potatoes in medium saucepan. Fill with cold water to cover by one inch. Add salt to taste. Bring to a boil, lower heat and simmer for 15-20 minutes, or until fork tender. Drain and transfer to a bowl. Toss potatoes with 2 Tbsp. of the tapenade and 1 Tbsp. of the olive oil. Add salt and pepper, to taste.
3. Preheat outdoor grill or broiler. Rub 1 tsp. of olive oil onto the fleshy side of each fillet. Season with salt and pepper. If grilling, grill each fillet 2-3 minutes on each side. If broiling, cover baking sheet with nonstick aluminum foil and arrange the fillets fleshy-side up. Broil 5-6 minutes or until the fish is cooked and lightly browned (thicker fillets may take longer). Squeeze juice of 1/2 lemon over the fillets and sprinkle with marjoram. Serve each fillet topped with a spoonful of tapenade, accompanied by the red-skinned potatoes and a lemon wedge.
About Pompeian
Founded in 1906 in Baltimore, Pompeian, Inc. is the importer of America's oldest national brand of olive oil, best-selling wine vinegars, and a variety of cooking wines. For more recipes and Pompeian product information, visit pompeian.com and be sure to "Like" Pompeian on Facebook.
Contact:
Barbara Graham
Block & DeCorso
Verona, NJ 07044
Ph: 973-857-3900
bgraham(at)blockdecorso(dot)com
# # #