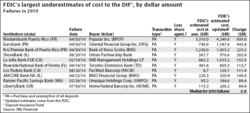 The FDIC's biggest misses came on three Puerto Rico bank failures.
The largest dollar amount rise in projected cost was the loss estimate of Mayaguez, Puerto Rico-based Westernbank Puerto Rico which was shut on April 30, 2010
Charlottesville, VA (PRWEB) May 13, 2011
The FDIC has increased its total projected cost of 2010 failures by $2.01 billion or 9.06% compared to the initial loss estimate it provided at the time of the closures, according to an analysis by SNL Financial. The agency released the updated estimated losses to the Deposit Insurance Fund for 2010 bank failures on its website.
The estimate increased to $24.18 billion as of Dec. 31, 2010, from initial estimates of $22.17 billion, mostly driven by upward revisions to the costs of the April 30, 2010 failures of three Puerto Rico-based institutions.
Of the 157 initial loss estimates the FDIC announced for 2010 failures, 102 have increased, while 55 have decreased. The anticipated loss was increased by a median of $3.8 million, or 9.8%, of initial estimates.
Comparatively, when updated loss estimates were posted by the FDIC for 2009 failures, they were $632 million more than initially expected. Eighty of the 126 initial loss estimates increased, while 46 decreased, according to SNL Financial's analysis.
In estimating 2010 losses, the FDIC's biggest misses came on three Puerto Rico bank failures.
The largest dollar amount rise in projected cost was the loss estimate of Mayaguez, Puerto Rico-based Westernbank Puerto Rico which was shut on April 30, 2010. At the time of failure, the FDIC predicted that the transaction would cost the DIF $3.31 billion. At Dec. 31, 2010, the estimate had increased to $4.25 billion. Hato Rey, Puerto Rico-based Popular Inc.'s unit, Banco Popular de Puerto Rico purchased Westernbank Puerto Rico from the FDIC with a loss-share agreement covering $8.77 billion in assets. At the time of failure, Westernbank Puerto Rico had approximately $11.94 billion in total assets and $8.62 billion in total deposits.
For in-depth information on SNL Financial's coverage of 2010 Bank Failures and performance,
Contact Christina Twomey by email at ctwomey(at)snl(dot)com or phone 434-951-6914. High resolution charts are also available for reprinting to media.
About SNL Financial
SNL Financial is a leading provider of financial information on more than 3,300 public companies and 50,000 private companies in the business sectors critical to the global economy: Banking, Financial Services, Insurance, Real Estate, Energy and Media & Communications. The SNL information service integrates breaking news, comprehensive data and expert analysis into an electronic database available online and updated around the clock. For more information, visit http://www.snl.com.
SNL Financial
One SNL Plaza
Charlottesville, VA
22902
434.977.1600
Other office locations:
Ahmedabad, India; Arlington, Va.; Boston, Mass.; Boulder, Colo.; Islamabad, Pakistan; Jersey City, N.J.; London; Monterey, Calif.; New York; Richmond, Va.
Visit SNL in the Media to learn more about resources available to members of the media.
SNL Financial on LinkedIn: http://linkedin.com/company/snl-financial
Follow Us on Twitter: http://twitter.com/#!/SNLFinancial/snl-corporate-directory-2
###