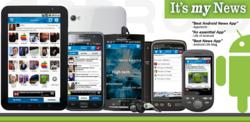 In a world of information overload people want to receive timely and accurate information on subjects that interest them. News Republic does all of that and addresses the natural need for users to have full and complete access to information.
Bordeaux, France (PRWEB) May 17, 2011
News Republic, the best-rated news app on Android worldwide, is now available across all major Smartphone platforms including Blackberry, Nokia OVI, Samsung Bada. The WP7 edition will also be available soon.
News Republic has taken its "open news for the end user" approach to the Android tablets, bringing together content from various high quality sources and pairing it with its renowned TagNav© system—allowing users to hop from topic-to-topic and source-to-source and read the news all from the same screen. Ultimately, the app provides a perfect world of news that lets readers view all sides of a story from a variety of sources. And now, News Republic's new fully-customized version features a slick user interface especially designed for Android Honeycomb tablets and a stunning photo gallery of top stories.
"In a world of information overload people want to receive timely and accurate information on subjects that specifically interests them. News Republic does all of that and addresses the natural need for users to have full and complete access to information on the subjects they really like, instantly," says Gilles Raymond, CEO of Mobiles Republic.
With the TagNav© system, readers can delve deeper into the stories that are most important to them by selecting highlighted keywords (Google, Cannes Film Festival, or even Lindsay Lohan) to pull up a slew of targeted articles related to that topic. Over time, News Republic is able to "learn" users' preferences on topics and sources, so that instead of having to dig around to find what interested him, the app can display those stories for them.
News Republic's global approach paired with local content lets users get the news pertinent to them from top sources like the Associated Press, Reuters, WENN, Tech Radar, and more—all from a single app. Its aim is to be the premiere news app for smart and savvy readers who wish to stay informed of the breaking headlines in both international news and local news.
News Republic At-A-Glance

Fresh, global and local content: updates from the most respected newswires worldwide providing thousands of daily top stories in US News, International, Business, Sports, Technology, Entertainment, and more.
Your personalized news channel: endless customization options with your myNews channel as you pick the topics, people, or events that you want to read about.
Surf the news: the TagNav© system allows you to explore specific topics related to news stories you've read and add them to your own myNews channel.
News Encyclopedia: whatever the topic, you also have the option to go deeper and search and discover more. With over 120,000 topics covered, you can search and reference related articles and themes across the entire web to discover more on any topic you choose in an instant.
With its many smart features, NEWS REPUBLIC meets the current need to be able to access any information, anytime, anywhere and as instantly as possible, while remaining fun and practical:

Users use it twice more than any other News app available and are 80% more accurate (source: Flurry analytics).
They also don't hesitate to recommend it since it is currently listed as the News application with the highest rated on the international Android Market worldwide (average 4.6/5) and App Store in Europe (average 4.3/5).
Pricing and Availability
News Republic is free and available worldwide.
The iOS version is available on the iTunes App Store.
The Android version is available on the Market, as well as independent stores (GetJar, Appbrain, Androlib, etc.) in the News section.
Check us out on:

Photos and additional information available upon request.
About Mobiles Republic
Mobiles Republic is an innovative provider of turnkey mobile media solutions and applications for both feature phones and smartphones.
Mobiles Republic empowers content publishers, device manufacturers and mobile operators. In just a few months, the company has managed to sign strategic deals with media companies such as Lagardère / Hachette Filipacchi (Elle, Virgin Radio, Première, etc.), Amaury Group, Gameloft, and several news agencies including AP, AFP, Reuters and PR Newswire. In addition Mobiles Republic applications are now preloaded on Samsung Mobile, LG and Sony Ericsson handsets in several regions.
NEWS REPUBLIC™, an innovative application available on Smartphones in the USA, the UK, France and Italy is already used by over 350,000 people to catch up with breaking news.
Mobiles Republic has developed TagNav©, a semantic search and semantic targeting solution that powers its NEWS REPUBLIC™ application.
The company's award-winning APPY™ meta-applications deliver a unique user experience optimized for over 140 feature phone models.
###