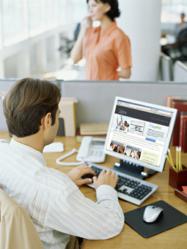 The two most frequent reasons employees cite for leaving a job are 1) lack of recognition, and 2) a poor manager. These two issues have been addressed as an integral part of the Dittman TotalPRO solution.
New Brunswick, NJ (PRWEB) May 16, 2011
Dittman Incentive Marketing, a national performance improvement and incentive marketing provider, has launched a new website, DittmanTotalPro.com, highlighting the Software-as-a-Service solution, Dittman TotalPro® (Performance Recognition Online).
The website, DittmanTotalPRO.com details the specific employee engagement solutions, rewards fulfillment services, and thought leadership that help Dittman's clients achieve measurable results and consistent return on investment. Dittman TotalPro allows companies to enjoy real-time performance program data management, enterprise-wide performance solutions, and incentive campaigns with closed-loop integrity.
Says Jim Dittman, President of Dittman Incentive Marketing, "The two most frequent reasons employees cite for leaving a job are 1) lack of recognition, and 2) a poor manager. These two issues have been addressed as an integral part of the TotalPRO solution. TotalPRO provides the prompts, reminders, and tips that help managers to remember and recognize people."
Dittman Incentive Marketing partners with Fortune 500 corporations to design and deploy customized solutions that improve sales performance and employee engagement while promoting manager and peer-to-peer recognition. Modules include: Sales Incentives, Recognition Programs (including peer-to-peer, manager, and spot awards), Referral Programs (for cross selling or recruiting and talent acquisition), Knowledge Programs, Innovation, Years of Service Awards, Wellness, and Safety Programs, as well as conduct surveys and polls.
By utilizing Dittman's expertise across financial services, healthcare, manufacturing, retail, and technology, companies are able to maximize employee performance and channel partners with incentive, recognition, and rewards solutions. By communicating brand values and brand promise, companies leverage TotalPro to enhance corporate culture for a more engaged workforce. Dittman TotalPro helps companies attract, engage, motivate and retain top talent by drawing together all corporate recognition and rewards initiatives to a single, easy-to-use, client-branded site. A global points system allows people to earn in a variety of ways in order to achieve higher levels of personal enrichment while demonstrating brand values. Activate a single module or a series of modules that make sense for corporate culture and brand.
The new website highlights a variety of rewards solutions, including name-brand merchandise, retailer gift cards, event tickets, individual travel, group travel, debit cards, on-the-spot awards, and recognition by managers and peers.
Please visit the new website for more information, http://www.DittmanTotalPro.com.
About Dittman Incentive Marketing
Dittman Incentive Marketing is a leading provider of incentives, rewards and recognitions programs using online software (SaaS) to help companies realize immediate ROI in motivating sales people, employees, channel partners, and customers. Our solutions include: TotalPRO® - recognition and rewards solution includes modules for peer-to-peer and manager recognition, sales incentives, referral programs, service awards, bright ideas, safety, and wellness; Great Escapes™ - individual travel incentives for sales incentives and contests with over 130 destinations; and Great Rewards™ - individual name-brand merchandise rewards. Dittman Incentive Marketing is a founding trustee of the People Performance Forum at Northwestern University and the Enterprise Engagement Alliance. For information: web http://www.dittmanincentives.com; Facebook http://www.facebook.com/dittmanincentives.
# # #