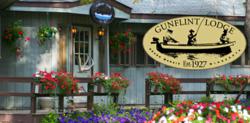 We offer an all inclusive honeymoon package that allows honeymooners to simply relax and enjoy each other's company in the quiet of the Minnesota wilderness.
Grand Marais, Minnesota (PRWEB) May 14, 2011
Peace, beauty and romance: these are what people most desire from their honeymoon destination. For newlyweds who love the great outdoors and seek a wilderness experience for their perfect honeymoon, remote honeymoon getaways can be hard to find. Gunflint Lodge in Grand Marais, Minnesota offers the complete package: serenity, breathtaking beauty and true wilderness to celebrate a couple's new life together.
"For the couple that loves the great outdoors, there's no better place to celebrate your marriage than at Gunflint Lodge, we're a wonderful honeymoon destination," says Bruce Kerfoot, second generation owner of Gunflint Lodge. "We offer an all inclusive honeymoon package that allows honeymooners to simply relax and enjoy each other's company in the quiet of the Minnesota wilderness."
Kerfoot adds that at Gunflint, they take care of all the details. Gunflint's honeymoon vacation packages include accommodations, meals, a relaxing massage for two and every day is filled with outdoor fun and activities. "There is no need to plan ahead; our honeymoon package allows the newlyweds the freedom of deciding what they feel like doing each day, knowing that no matter what the season, they will have a wonderful time celebrating their new life together."
The honeymoon package provides each couple with all their meals, plus a daily treat of appetizers and wine delivered right to their romantic lakeside cabin each evening. Newlyweds can choose to have their breakfast delivered to their cabin each day or relish the menu options in Gunflint's main dining room. For lunch, couples can choose to enjoy a packed picnic on outdoor adventures, in the dining room, or have it delivered to the cabin.
"Our cozy cabins are each equipped with a full kitchen in case you want to stay curled up by the fireplace for dinner, but our dining options are very tempting," says Kerfoot. "As part of the romantic, all–inclusive package, couples enjoy Gunflint's plentiful dining options including delicious bistro-style cuisine at The Red Paddle or elegant dining in Justine's Fine Dining. Each has panoramic views of the sunsets on Gunflint Lake."
Gunflint is situated on the edge of Gunflint Lake in the Superior National Forest, near the Canadian border. Framed by acres of forest and miles of sparkling lake – Gunflint is a wilderness retreat. There are opportunities for outdoor adventures of all types, in all seasons.
Each week the lodge offers 15 to 20 activities for guests to choose from, many with the resort's naturalist guides.
"We offer many great outdoor activities, perfect for those who want a unique wilderness experience," Kerfoot adds. "In the warm months, you can explore the beauty of the region by hiking, boating, horseback-riding and biking together, or just relax on our pontoon boat cruises. In winter you can snowmobile, go for a cozy dogsled ride, cross-country ski or snowshoe. Since you have your love to keep you warm, try ice fishing on Gunflint Lake."
About Gunflint: Gunflint Lodge is a year-round pet friendly wilderness vacation resort in northeastern Minnesota on the Gunflint Trail just north of Grand Marais, offering family vacations, fishing trips, honeymoons, horseback riding packages, women's group retreats, and family reunions. For more information, please visit http://www.honeymoonminnesota.com or http://www.gunflint.com.
###