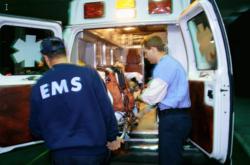 Lack of required medical treatment documentation is a common cause of claim reimbursement delays.
East Hartford, CT (PRWEB) May 24, 2011
Time is a critical factor in treating a medical emergency, and this can be especially true for a sick or injured traveler needing help from first responders during a trip. Travel Insured International®, the leading independently-owned travel insurance provider, joins with the US Travel Insurance Association in recommending that travelers carry a copy of, and have online access to, their personal medical profile. A single file containing detailed information about the traveler's medical history, pre-existing conditions, current medications, home physician and medical provider information, and health insurance carrier and coverage information may spell the difference in getting timely, effective emergency treatment.
A personal med profile, updated to reflect the traveler's latest medical treatment information, including any emergency medical care received during the trip, will also help expedite a speedier reimbursement of out-of-pocket medical costs and related travel expenses covered by the traveler's own health insurer or his or her travel insurance policy. Lack of required medical treatment documentation is a common cause of claim reimbursement delays for emergency accident and sickness medical expense coverage included in travel insurance policies.
What to Include in Personal Med Profile
Travelers should plan ahead and carefully gather the needed information to complete their personal medical profile before departure. A best practice is to save a copy on your computer at home that could be accessed by or emailed to emergency health care providers when needed, and to carry a copy in your luggage during your trip. The personal medical profile should include:

Personal contacts: information for reaching relatives or friends in a medical emergency. Remember to identify the first person who should be called.
The traveler's complete travel itinerary.
List with complete contact information of medical care providers, especially primary care physician with med records and all other doctors actively treating the traveler. Indicate what condition each doctor is treating.
Contact information for health care and travel insurers, including plan and member numbers and time-saving direct phone numbers.
Full disclosure of any pre-existing medical conditions including speech, memory, hearing or any other non-visible conditions.
Complete medical history including past surgeries, allergies, blood type, medical devices, medications and immunizations received for travel.
A profile update during the trip of any medical treatment or new medications, including any received voluntarily, obtained by the traveler during his or her travel period.
Having the personal medical profile is especially valuable to Travel Insured International® customers who purchase the Worldwide Trip Protector, Worldwide Trip Protector Gold or Trip Protector Lite Expanded plan because of the availability of coverage for the recurrence of a pre-existing medical condition in these plans. Coverage can be obtained when a plan is purchased within 14, 21 or 30 days of the initial trip deposit, depending on the specific insurance plan selected, as long as simple purchase requirements are met and the insured is medically able to travel at the time the insurance plan is purchased.
The US Travel Insurance Association has a guide to travel safety tips, include personal med profile advice, on its web site , and its informative new blog called "Travel Responsibly, Informed & Protected" (TRIP).
About Travel Insured International®
Travel Insured International®, based in E. Hartford, CT, was founded in 1994 by the foresight of insurance industry executive Peter Gehris when he acquired the travel protection division of the Travelers Insurance Company. Coverage is underwritten by Arch Insurance Company (a Missouri corporation, NAIC #11150) with executive offices located in Jersey City, NJ. Arch Insurance is rated A ("Excellent") for financial strength by the insurance rating service A.M. Best. Not all insurance products or coverage is available in all jurisdictions. Coverage is subject to actual policy language.
Travel Insured International®
52-S Oakland Ave.
E. Hartford, CT 06128-0568
Contact: John Stone
Media Relations Manager
###