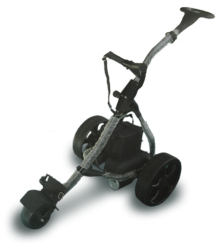 "The quality of service that yourself and the tech offered today was world class."

-Ren Brown
Satisfied GRV Customer
Santa Rosa, CA (PRWEB) May 13, 2011
Green Ray Vehicles, an electrical vehicles manufacturer, announces their new electric push caddy for golfers: The GRV "Eagle" Electric Trolley. The golf trolley is to be released on May 23, 2011. The same day will see their existing model – the GRV "Ace" Remote Controlled Electric Golf Trolley – re-launched, as it receives an upgrade for 2011.
"Our new lower priced electric trolley has a super light design and weighs in at only 41lbs," said Tom Knickerbocker, spokesman for Green Ray Vehicles. "The design is unique to us here at Green Ray Vehicles and we're proud to offer it at only $389 with free shipping."
The new electric golf caddy comes packed with lots of features to appeal to every golfer. The handlebar makes the push caddy easy to steer and the lightweight 24ah battery is enough to last for a full 24 holes before it requires recharging. A cup holder and scorecard holder come as standard on every model, while an umbrella holder, carry bag, rain cover and seat can be added if required.
"This superlight caddy has modern wheel technology that makes it unique to us here at Green Ray Vehicles," Tom added. "Robust stainless steel is used to great effect, and it's our hope to have several Californian golf courses offering our push caddy as a rental option in the near future."
Pre-orders are currently being taken for the electric push caddy for immediate release on May 23rd. However quantities are limited for the first order, so all pre-orders should be made as soon as possible. This also applies to the updated 2011 remote controlled model.
Green Ray Vehicles is also offering a 180 day warranty on all its caddies as standard. The battery has a 90 day warranty offered as standard. A customer service team is in place from Monday to Friday every week to answer any questions or queries about either of the golf caddies or how to purchase them.
Recent customers have been very satisfied with their purchases as well as the customer support, as this comment from Ren Brown attests: "The quality of service that yourself and the tech offered today was WORLD CLASS... feel free to pass my comments to your management team."
About Green Ray Vehicles: Green Ray Vehicles is a company based in Santa Rosa, California, USA. It manufactures electric vehicles of all kinds, and has had recent success with its electric golf caddies. The website has full information on the updated version of their first remote controlled golf caddy. It also features the brand new electric push caddy that launches on May 23rd. Complete information about Green Ray Vehicles can be found at http://www.greenrayvehicles.com.
###