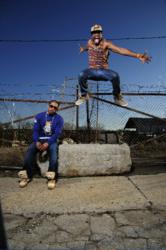 Thank God almighty we are free at last!
Atlanta, GA (PRWEB) May 13, 2011
It's been five years since Virgin Islands songwriter/performer duo, R. City aka Rock City signed to Konvict Records/Interscope under Akon; five years, eight mix tapes and a string of hits written and released for the albums of others; Rihanna, Justin Bieber, Chris Brown, Jennifer Hudson (Grammy nominated), R. Kelly and Akon to name a few. Yet despite all of that success, a release date for their own album was not forthcoming, causing the guys to launch a very public campaign they gallantly called PTFAO (Put the F**king Album Out) to make the industry aware of their plight. Finally, in March 2011, after two years of campaigning, Akon met with the duo and offered them the option of remaining with the label and working towards dropping an album or being released from their contract. Grateful as they were to Akon for the opportunities afforded them, the guys snatched the chance of finally gaining their freedom and are now officially free agents, able finally to PTFAO. R. City aka Rock City's debut album, "Free At Last" is set to drop later this summer on their own label, Rebelution Records.
Immediately upon leaving that meeting with Akon, R. City aka Rock City's manager, Ray Daniels, called long-time friend Wendy Day, who has made a name for herself assisting artists with the release of their own projects and within 5 hours the team was strategizing the drop of the album. After years of writing hit songs for other people, R. City aka Rock City is, at long last, able to showcase their amazing talent in the first person. "We On", the first single from "Free At Last", was serviced to mix show just last week and is already at over 30 spins a week. With its unmistakable bounce, expect the song to make its way to every club deejay's playlist nationwide within weeks.
These guys have all of the ingredients for stardom. They are already proven songwriters. Their live show is second to none. All they wanted was a chance. Now that they are 'free at last' the sky is the limit and there's not a dark cloud in sight.
For further information and media opportunities, kindly contact Nancy Byron, OGPR Marketing & Public Relations, Inc. (832) 220.6071 or nancyb(at)ogpr(dot)net
Follow us on Twitter via @WeAreRockCity & @RapPublicist
###