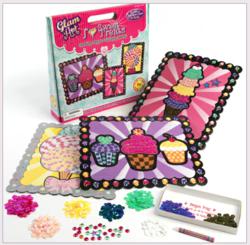 Glam Art! Crafts for the ultimate glamour girl!
Westlake Village, CA (PRWEB) May 16, 2011
Sisters, toy manufacturers and founders of Fubulous Wubulous Inc., Tiffany Pinegar and Tessa Pourtahmassebi, are excited to announce the launch of Glam Art, a series of themed craft kits designed with the ultimate glamour girl in mind. Each kit features three glamorous art boards to decorate with sparkling sequins and glistening jewels. Artists can follow the easy color patterns or create their own. Available in eight unique kits.
Tiffany, a veteran fashion designer, and Tessa, experienced in sales and marketing, are the daughters of the creator of Do-A-Dot Art. These sisters have combined their knowledge and experience to launch Fubulous Wubulous. The goal of their new company, Fubulous Wubulous Inc™, was to create fabulous, wonderful toys that would spark the creative minds in all children.
Glam Art, the first Fubulous Wubulous line to launch, integrates glamour and fashion elements into arts and crafts. Bold colors, sparkling sequins, fun patterns and easy to follow instructions—these kits are already popular at play dates, slumber parties, and after school activities .
Glam Art craft kits are available online at http://www.fubwub.com and at specialty toy retailers nationwide.
Glam Art Website:
http://www.fubwub.com
Glam Art on Facebook:
http://www.facebook.com/pages/Glam-Art/181221125259708
Glam Art on Twitter:
http://twitter.com/FubWub_GlamArt
About Fubulous Wubulous
Based in Westlake Village, California, Fubulous Wubulous Inc. is a manufacturer of high quality and innovative toys and crafts. Founded in December of 2010, by Tiffany Pinegar and Tessa Pourtamassebi, Fubulous Wubulous products inspire young imaginations to run wild.
# # #