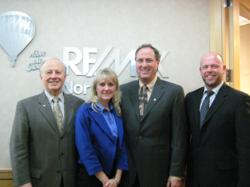 I've always respected the power of the RE/MAX brand. Going forward, I believe being affiliated with RE/MAX will be a huge advantage. --Tom Humpal
(PRWEB) May 18, 2011
Veteran real estate pro Tom Humpal of Humpal Realtors looked toward the future when he decided to convert his successful, independent brokerage to the RE/MAX brand. His RE/MAX office is one of the newest brokerages in the RE/MAX Northern Illinois real estate network and will be called RE/MAX Property Source.
Humpal's a realist. He knows that today's residential real estate market is more challenging than any he's seen in the more than three decades in which he's been selling homes. That's why Humpal, who began his real estate career in 1975, wanted to affiliate with RE/MAX Northern Illinois. He knows that the RE/MAX brand gives him access to the top Web technology and marketing tools.
"I've always respected the power of the RE/MAX brand," Humpal said. "Going forward, I believe being affiliated with RE/MAX will be a huge advantage. The RE/MAX name has a strong presence in our marketplace. By associating with RE/MAX, we'll have access to the best in technology. A move like this creates a synergistic effect; we have the perfect blend of seasoned professionals and talented youthful performers to make this a winning strategy, not only for our office and RE/MAX, but for the greater Rockford area."
Humpal ran his own independent brokerage, Humpal Realtors®, out of Rockford for more than 15 years. Humpal's brokerage, located at 6072 Brynwood Drive, became part of the independently owned and operated RE/MAX Northern Illinois real estate network on May 5. His son, Matt, who joined Humpal Realtors® in 2001, will be part of the office along with 13 agents. Tom Humpal will serve as the broker/owner and continue his role as a top producing broker.
The conversion took place at the right time for Humpal. Despite the challenging residential real estate market, Humpal plans to expand his brokerage and is currently looking for quality professionals. Humpal's goal is a simple one: He wants to expand the leading market share that RE/MAX already has in the Rockford market, and utilize all of the brand's resources.
The affiliation with RE/MAX is at the right time, the right place, and with the right firm, said Humpal.
"I am truly looking forward to the future of real estate in the Rockford area. I am elated and energized to be in business today with RE/MAX. The professionals that work at our firm are absolutely thrilled about affiliating with RE/MAX. The tools, technology and brand recognition that this move brings will not only benefit each agent's business, but more importantly raise the level of service for our clients. This is a move that took place with perfect timing and will only strengthen our brokerage in the future."
# # #