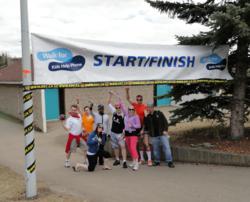 We were inspired as a team. - Tyrel Johannson, President of LiquidEdge Marketing
Edmonton, AB (PRWEB) May 16, 2011
LiquidEdge Marketing, an Edmonton-based sales and marketing company, recently participated in the ninth annual Walk for Kids Help Phone event and raised funds for the organization. This walk was sponsored by Kids Help Phone, a local online professional counseling service for the children and youth in Canada.
Eight team members from LiquidEdge Marketing, along with President Tyrel Johannson, participated in the walk, which took place at Gold Bar Park in Edmonton in early May. The LiquidEdge team decided to participate in the walk and raise funds after one of their team members heard about the organization while out selling on behalf of one of their major clients.
"When we learned that Kids Help Phone needed volunteers, we knew this was a great opportunity to get involved," said President Tyrel Johannson. "The day was phenomenal and we were so glad that we participated and helped raise money for such an important cause."
Since community service and involvement is a goal for LiquidEdge Marketing, the team plans to do even more with Kids Help Phone in the near future.
"We were inspired as a team," President Tyrel Johannson said. "One of our company goals is to participate in our local community. We're looking forward to working with even more organizations in the near future."
Follow LiquidEdge Marketing on Facebook and Twitter.
About LiquidEdge Marketing
LiquidEdge Marketing is an outsourced sales and marketing company in Edmonton, AB, that provides clients with leading sales and marketing solutions. LiquidEdge Marketing ensures that its clients business, products, and services are being marketed with the highest level of integrity and professionalism. For more information, log on to http://www.liquidedge.ca or call (708)433-2570.
# # #