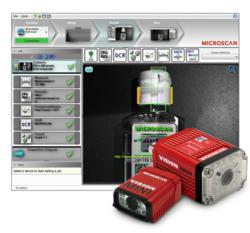 Renton, WA (PRWEB) May 13, 2011
Microscan, a global technology leader in barcode, machine vision and lighting solutions, offered visitors at two recent tradeshows a preview of their latest machine vision products. The company's new AutoVISION™ machine vision software, along with the Vision HAWK and Vision MINI smart cameras, was demonstrated at Automate 2011, which took place in Chicago in late March, and IPC APEX, the electronics industry expo, in Las Vegas this April.
Response to the products was extremely positive, eliciting enthusiasm from visitors to the Microscan booth at each event. "The AutoVISION™ products' combination of small size, long list of vision capabilities, and easy to use machine vision software will open the door to new opportunities for vision solutions," remarked Microscan customer Greg Hilbert of eSolutions Company (Lafayette, IN).
Set for release in June 2011, the new suite of products aims to simplify the set-up and deployment of machine vision applications while providing a powerful tool set for reliable, high performance inspection and identification. The Vision HAWK and Vision MINI hardware platforms feature compact, fully-integrated housings for easy integration into the production process, and can be operated by Microscan's intuitive AutoVISION™ machine vision software interface or the more advanced Visionscape® machine vision software. This scalable format allows users to set up jobs in AutoVISION™ and later migrate to the Visionscape® platform if the application grows in complexity, saving both time and money down the road. Manufacturers can improve efficiency and reduce defects by accomplishing a wide range of applications, including part identification and location, item traceability, and other automated inspection tasks.
"We are very excited by the potential of our new AutoVISION™ suite of products, whose compact size, ease-of-use, and scalability are unprecedented in the machine vision market," says Microscan President Scott Summerville. "We expect them to be a big hit with manufacturers who may have previously been intimidated by the complexity of machine vision."
For more information on AutoVISION™ machine vision software and smart cameras, please visit http://www.microscan.com/vision123.
About Microscan
Microscan is a global leader in technology for precision data acquisition and control solutions serving a wide range of automation and OEM applications. Founded in 1982, Microscan has a strong history of technology innovation that includes the invention of the first laser diode barcode scanner and the 2D symbology, Data Matrix. Today, Microscan remains a technology leader in automatic identification and machine vision with extensive solutions for ID tracking, traceability and inspection ranging from basic barcode reading up to complex machine vision inspection, identification, and measurement.
As an ISO 9001:2008 certified company recognized for quality leadership in the U.S., Microscan is known and trusted by customers worldwide as a provider of quality, high precision products. Microscan is a Spectris company.
###