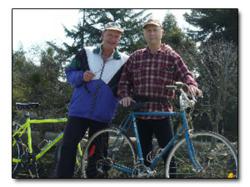 "I want to inspire others who have this disease to keep on fighting."
(PRWEB) May 14, 2011
Andy Sninsky is a remarkable man. Years ago he rode his bicycle across much of Europe and twice across the United States, but his really extraordinary achievements have just begun. Now, in his early sixties, 3 years out from a diagnosis of Stage III multiple myeloma, he and a co-rider, Tom Moinet, have successfully tackled the grueling ride from Newport Beach, California to Bullhead City, Arizona, crossing the Mojave Desert to raise awareness and to support efforts to find a cure for multiple myeloma. The IMF applauds Andy's efforts and is grateful to all who gave their support.
Once a rare disease of the elderly, multiple myeloma is being diagnosed in growing numbers and in increasingly younger people. Myeloma affects an estimated 750,000 people worldwide, and each year approximately 20,000 new cases are diagnosed in the United States alone.
Andy is a survivor. Following radiation, chemotherapy and an autologous stem cell transplant, he began riding his bicycle again. The goal for his adventure in the desert was to bring hope and encouragement to other patients and their caregivers, while also supporting the cause as a FUNdraiser through the International Myeloma Foundation.
After completing the trip, which was at times exhausting but never dull, the travelers have returned home. Andy is looking forward to more trips in the future.
About the International Myeloma Foundation
Founded in 1990, the IMF is the oldest and largest myeloma organization in the world, reaching more than 195,000 members in 113 countries. Focusing on four key areas—research, education, support and advocacy, the IMF's mission is to improve the quality of life of myeloma patients while working toward prevention and a cure. The research arm of the IMF, the International Myeloma Working Group (IMWG), comprised of 145 leading collaborative researchers, continues to lead the way in myeloma treatment and research. The IMF can be reached at (800) 453-CURE. The global website is myeloma.org.
###