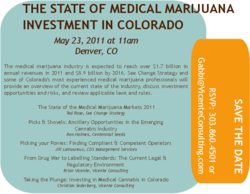 This cutting-edge seminar will provide a comprehensive look at investment opportunities in the emerging health care field of medical marijuana.
Denver, CO (PRWEB) May 13, 2011
Local and national medical marijuana business experts will be presenting a first-of-its-kind seminar to educate current and potential investors in Colorado about this growing and ever-changing investment opportunity. On May 23, 2011, in Denver, representatives from some of Colorado's top medical marijuana businesses--including retail centers, ancillary businesses, and service providers--will present information to investors about the current state of affairs in Colorado.
Discussion topics include market analysis, a three-year case study, risk profiles and business valuation strategies, the legal and regulatory climate, and allowable investment structures in Colorado.
Despite strong interest from investors, unique barriers to investment have plagued Colorado's medical marijuana business development. Unclear guidelines for investment, changing state and local regulations, and legal gray areas present investors with a complicated set of factors to consider; however, these hurdles need not dissuade the savvy investor.
A recent national report indicates that within five years, the national medical marijuana market could reach nearly $9 billion. Investment in medical marijuana businesses in Denver tops $200 million, and millions of dollars in sales taxes paid to local municipalities and the state have reopened libraries, turned streetlights back on, and helped fill budget deficits across Colorado. See Change Strategies, the report publishers, will present a discussion of The State of the Medical Marijuana Markets 2011.
"Of states with available investment opportunities, Colorado is unique in offering both a legally protected system for medical marijuana retail centers and a proven market with established for-profit businesses," says Jill Lamoureux, managing member of CDS Centers and CDS Management Services.
According to Brian Vicente, principal at Vicente Consulting, "This cutting-edge seminar will provide a comprehensive look at investment opportunities in the emerging health care field of medical marijuana. Attendees will learn important aspects of this newly-regulated market and hear of opportunities to invest in companies that help Colorado's quickly growing patient population."
Event Information
The State of Medical Marijuana Investment in Colorado
Date: 11am on May 23, 2011
Location: Oxford Hotel, 1600 17th St, Denver, CO
Invitees: Interested investors only
Presenters: CDS Management Services, Centennial Seeds, CSSB Private Bank, See Change Strategy, Vicente Consulting
Agenda: Visit management.cdscenters.com for the most current agenda
RSVP Required: 303-860-4501
For more information: management.cdscenters.com, 720-530-0138
About CDS Management Services
CDS Management Services provides comprehensive consulting and management services to the Medical Marijuana sector including retail centers, cultivators, and affiliated businesses. Our expert team brings experience in business management, from concept to day-to-day implementation, from a wide swath of traditional business and organizational backgrounds.
About Centennial Seeds
Centennial Seeds was founded in 2009 to develop, produce and market high quality, certified medical cannabis seed for Colorado's rapidly emerging medical cannabis market. We are among the very first cannabis seed companies to be established in the United States.
About CSSB Private Bank
CSSB Private Bank, a division of Herring Bank, provides full-service banking including business and personal accounts, remote deposit capture, merchant services, and a private banker to manage your relationship.
About See Change Strategy
See Change Strategy is an independent financial news and information firm committed to finding opportunity and growth in unique new markets. See Change Strategy delivers value by providing critical insight, in-depth knowledge and market-moving data to investors, business owners and entrepreneurs.
About Vicente Consulting
Vicente Consulting LLC is a full service medical marijuana law firm dedicated to helping our clients navigate through Colorado's new medical marijuana laws. At Vicente Consulting, we provide personalized, affordable, and community focused services for all segments of Colorado's medical marijuana community.
###