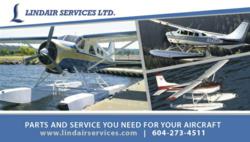 Every pilot could use an Aerocet float and Lindair Aviation is here to help
(PRWEB) May 31, 2011
Lindair Aviation Services is proud to announce a new premier product line in aviation float plane technology: Aerocet Floats. This product is unmatched in its class and is both structurally and hydrodynamically advanced with a rivet free construction. Every pilot wants to know he or she is flying with the best and safest equipment and the Aerocet line of floats meets high standards in both of these areas.
Lindair sells and services all four lines of Aerocet floats. Each has the fully composite design making them safer and easier to maintain.
The most popular product is the 3400 amphibious float with its ability to land on both land and water. These amphibs are a leading product in the industry and offer pilots flexibility and limitless possibilities. With a very large sweet spot, these floats are the most forgiving for novice pilots landing in the water. They are very slippery which means they will get a plane into the air quicker than other floats.
The 3500L straight float is another good selling unit with hundreds of sets on planes all over North America. The sturdy design is both the safer choice and a nice looking float. The straight float is similar to the amphib model in that the larger sweet spot makes for easier take offs and landings in the water. Large storage lockers allow for more fishing gear for those trips up north and the rivetless construction means no leaks so stored gear is protected.
Lindair also distributes Aerocet's 2200 float for lighter aircraft and the 5850 for larger craft like the DeHavilland Beaver. The benefit for each is again, the strong, sturdy, and best looking design of the Aerocet line. Strength and beauty come together to form a wonderful package with Aerocet floats.
Lindair Aviation 1-800-663-5829
lindairservices(at)telus(dot)net
http://www.lindairservices.com
###