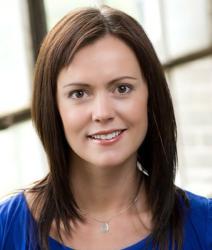 When I think about owning a company, it's about much more than money. For me it's about passion and fulfillment in what I'm doing. That's what drives me.
Minneapolis, MN (PRWEB) May 13, 2011
Kristen K. Brown, founder and president of Happy Hour Effect LLC and WidowMommy.com, was named a Finalist in the Executive of the Year category for the 2011 American Business Awards, her second consecutive nomination.
Happy Hour Effect® is a stress management and work/life balance company started in Minneapolis, Minnesota by Kristen K. Brown after extreme work and personal stress in her own life following the unexpected death of her husband when their daughter was just an infant. Ms. Brown states, "When I started Happy Hour Effect®, I knew I wanted to pay it forward and help people live better lives no matter how challenging their situation or how stressed they are. Every day that's what I strive for – to help people find their balance."
Since its launch in 2009, Happy Hour Effect® and Ms. Brown have sponsored Hollywood events, been featured in print, television, radio and online, spoken and written articles about work stress and overcoming challenges and secured retail distribution - and her radio show, "The Happy Hour Effect with Kristen Brown," helps people minimize stress and maximize life. Ms. Brown's memoir, The Best Worst Thing, will be released on May 24th, 2011 and The Happy Hour Effect Training and Education Series of video, audio and book products is available online.
The American Business Awards are the nation's premier business awards program. All organizations operating in the U.S.A. are eligible to submit nominations – public and private, for-profit and non-profit, large and small. More than 2,800 nominations from organizations of all sizes and in virtually every industry were submitted this year for consideration in more than 40 categories. Finalists were chosen by business professionals nationwide during preliminary judging in April and May. Stevie Award winners will be selected from among the Finalists in each category next week by members of 10 specialized final judging committees. More than 150 executives will have participated in judging this year.
This year's Stevie Award winners will be announced during the annual gala on Monday, June 20th in New York City. More than six-hundred executives from across the U.S.A. are expected to attend. The event will benefit Camfed (camfed.org), which fights poverty and HIV/AIDS in Africa by educating girls and empowering women to become leaders of change. The ceremonies will be broadcast on radio nationwide by the Business TalkRadio Network.
Details about The American Business Awards and the list of Finalists in all categories are available at: stevieawards.com/aba/
For more information about Kristen Brown and her work, please visit: kristenkbrown.com
###