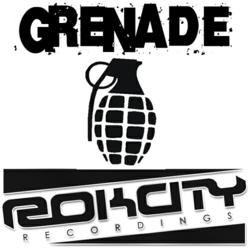 Las Vegas, NV (PRWEB) May 16, 2011
Amsterdam-based Electronic/Dance label Rokcity launches its sonic assault on the Dance/Electronic charts with the debut of its premiere single – a thumping cover of Bruno Mars' smash hit "Grenade" from Rokcity's premiere artist – also named Rokcity.
Based in Las Vegas, artist/producer Rokcity has toured the world performing and mixing his unique brand of Hard Trance, Hardstyle, Filthy House and Electro music. Taking his considerable skills to the next level, in 2011 Rokcity formed his self-titled record label as the exclusive outlet for his ferocious and filthy brand of Electronic music.
"Putting out MY music through industry channels was pushing me to be more commercial," says Rokcity. "But I'm not about compromise. So I gave the industry the finger and formed my own label. Now I can release MY music MY way."
With its frenzied bass line and recognizable vocal -- Rokcity's fresh, new cover of "Grenade" is already being spun by some of the top names in the Dance/Electronic world including Grammy-nominated DJ/producer Wolfgang Gartner.
Electronic/Dance music fans can look forward to a steady diet of new Rokcity tracks with new releases from Rokcity Recordings scheduled to drop every 3-4 weeks.
To preview the album, please click here: http://bit.ly/Rokcity
For more information, please visit: http://www.rokcityrecordings.com
For further details or press copies, please contact Heather Noonan at BFM Digital, at pr(at)bfmdigital(dot)com.
BFM Digital, Inc.
BFM Digital is a global digital music company committed to serving the independent music community and delivering quality music, spoken word and video content to leading online retailers worldwide. Representing a diverse catalog of indie labels, artists and publishers, BFM distributes to all of the major music services including iTunes, Amazon, Rhapsody, eMusic, Napster, Walmart, Nokia and many more. With an unparalleled commitment to personalized service, BFM works closely with their content providers from around the world to ensure maximum exposure of their catalog by customizing marketing efforts and building strong relationships with BFM's digital store partners.
# # #