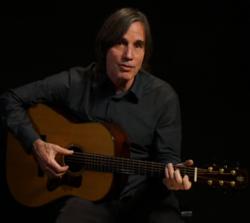 "Learning to play an instrument is a lifelong quest," Jackson Browne tells viewers at the end of the video. "And this is one of those great moments when technology and that lifelong quest come together."
Venice, CA (PRWEB) May 13, 2011
On the Path LLC (http://onthepath.com) released the new version of their best-selling iPad app, "On the Music Path," today featuring a 65-minute lesson by singer-songwriter, Jackson Browne, in which he explains his distinctive approach to the guitar and teaches users how to play four of his classic songs: "These Days," "Something Fine," "Your Bright Baby Blues" and "My Opening Farewell." The lesson includes 12 practice sessions where Jackson breaks down individual techniques, including his use of alternate tunings and fingerstyle picking patterns, accompanied by both musical notation and guitar tablature synchronized to Jackson's demonstration.
Jackson Browne (inducted into both the Rock and Roll Hall of Fame (2004) and Songwriter's Hall of Fame (2007)) also appears in a promotional video being released today by On the Path in which a number of artists—including Lee Ritenour, Leland Sklar, Scott Tennant and Jeff Bridges—explain what they love about the app (http://onthepath.com/video).
"What I like about the app," Jackson says in the video, "is that it is very much like a book in that you can open it whenever you want, it will keep your place, and you can come back to it whenever you want. It kind of defeats the constraints of time and space, all the barriers of getting together with a teacher at a particular time."
One of Jackson's favorite technical features is the ability to slow the teacher's demonstration down to ¼ of its original speed. "In the old days," he explains, "we used to play 45's at 33 so that we could actually register what was being played… This modern piece of technology is actually in service of the age-old musician's quest to see exactly what the teacher's doing."
The other artists featured in the video appear equally excited about the app. Jeff Bridges says the app is a "blessing for humanity" and that he's "excited" about taking Browne's lesson. Grammy-award winning guitarist, Scott Tennant, says he loves how "personable" the app is. "It has a very human feeling to it," Tennant explains. Lee Ritenour, one of the preeminent jazz instrumentalists of our time, predicts that the app is "the beginning of a whole new way of studying music, not just the guitar, but all instruments."
"Learning to play an instrument is a lifelong quest," Jackson tells viewers at the end of the video. "And this is one of those great moments when technology and that lifelong quest come together."
Both Jackson and On the Path are donating 100% of the proceeds of the lesson to the Success Through The Arts Foundation (STTAF), a Los Angeles-based non-profit organization that supports performing arts programs for underserved K-12 students in South Los Angeles. Browne is a founding board member of the foundation.
ABOUT THE APP
Shot in high-definition video by award-winning cinematographer, Alan Kozlowski, the "On the Music Path" iPad app offers carefully structured lessons on how to play the guitar, piano, drums and bass from a star-studded cast of world-renowned musicians, including: Jackson Browne, Richard Thompson, Michael Chapdelaine, Vonda Shepard, Leland Sklar, Lee Ritenour, Steve Ferrone, Ravi Shankar and many others. The app includes lessons for all levels of students, from novice to advanced. And is available exclusively on Apple's App Store (http://onthepath.com/AppStore.html).
Each lesson costs between $1.99 and $19.99 and includes 45-85 minutes of one-on-one lesson time with a master musician accompanied by musical notation, chord charts, lyrics and guitar tablature synchronized to the teacher's playing. Users can try out the first few chapters of any lesson for free (including the first 10 chapters of Jackson Browne's lesson). The app also offers a built-in digital tuner and metronome at no additional charge.
The On the Music Path app has been a critically-acclaimed, top-ranked app since its initial release at the end of April. "On the Music Path has to be one of the most ambitious iPad apps for guitarists built yet," extols Fretboard Journal. On the Music Path is presently one of the top 10 most downloaded paid iPad apps in Music in the U.S. App Store and is featured as a "New and Noteworthy" or "What's Hot" app in over 90 stores worldwide.
FOR MORE INFO:
Company website: http://onthepath.com
Press kit, videos and screenshots: http://onthepath.com/press
About the company: http://onthepath.com/aboutus
To download the app on the App Store: http://onthepath.com/AppStore.html
###