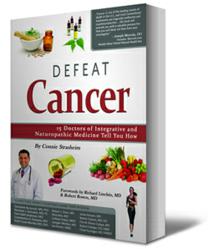 15 cancer doctors from 5 countries share their treatment strategies so you can compare and contrast the many available integrative and alternative cancer therapies.
South Lake Tahoe, CA (PRWEB) May 16, 2011
For cancer patients, the daunting challenge of choosing the best treatment methodology has just been made easier by the publication of a new book, entitled, Defeat Cancer: Fifteen Doctors of Integrative and Naturopathic Medicine Tell You How.
Written by health care journalist Connie Strasheim, the book is based on interviews with fifteen cancer doctors from five countries, and provides cutting-edge information on some of the most effective cancer treatments in integrative and naturopathic medicine. It was written for both patients and health care practitioners.
Visit http://www.cancerbooksource.com to read a free sample chapter.
Interested parties may order free informational book flyers.
Sorting through the dozens of available treatments in conventional and alternative medicine was the problem that author and journalist Connie Strasheim set out to solve when she teamed up with internationally-known publisher, BioMed Publishing Group, to write the book.
"I knew that cancer doctors who practice integrative medicine—and who have a good track record in helping patients, even those with late-stage cancers, to live for years beyond their original diagnosis—would have the most helpful insights into which therapies were giving people the best results, so this immediately seemed like it would be a valuable project," Ms. Strasheim said of her decision to work on the book. "I also knew that for a cancer patient to actually find and interview a significant number of these doctors would be both impractical and expensive, requiring travel across the world and thousands of dollars in plane tickets, hotel rooms, and doctor's appointment fees. Conducting intensive interviews with fifteen doctors from five countries was a lot of work, but the information it generated was incredibly useful."
Despite more than $250 billion spent on cancer research over the past sixty years, the cure rate attained by conventional medicine hasn't significantly improved since 1950.
Doctors who treat cancer with integrative medicine ("integrative" simply means the combination of conventional and alternative therapies) have had more favorable results in many cases, as evidenced by the outcomes reported in the book, as well as the testimonials of the hundreds or thousands of patients they have treated. Some of the doctors have claimed success rates upwards of 50 percent in treating terminal cancers, where "success" is defined as patients either attaining remission or living well with their cancers for years. Yet, many of the most beneficial integrative treatments are not well-known to the public due to the influence of medical politics, insurance companies, and pharmaceutical interests.
The fifteen physician interviewees selected for the book include medical doctors, osteopaths, and naturopaths who treat cancer either exclusively or as a major part of their practice. They have been trained in a variety of medical disciplines including, but not limited to, allopathic (conventional), naturopathic, homeopathic, biological, and Traditional Chinese medicine. All use proven solutions for managing and healing people with late-stage cancers of many types.
Physician Interviewees:
Stanislaw Burzynski, MD, PhD—Houston, Texas
Robert Zieve, MD—Prescott, Arizona
Nicholas Gonzalez, MD—New York, New York
Finn Scott Anderson, MD—Humlebæk, Denmark
Juergen Winkler, MD—Oceanside, California
Elio M. Rivera-Celaya, MD and his assistant Steven Hines—Ciudad Acuña, Coahuila, Mexico
Colleen Huber, NMD—Tempe, Arizona
Robert Eslinger, DO—Reno, Nevada
Martin Dayton, DO—Sunny Isles Beach, Florida
Nina Reis, MD—Bad Mergentheim, Germany
Julian Kenyon, MD—London, England
Constantine Kotsanis, MD—Grapevine, Texas
Joe Brown, ND—Tempe, Arizona
Keith Scott-Mumby, MD—Reno, Nevada
Chad Aschtgen, ND—Seattle, Washington
Each of the book's 15 chapters is devoted to the treatment approach of a particular doctor, and covers the following topics:
1) Anti-neoplastic (anti-cancer) treatments targeted at lowering or eliminating cancer cells and tumors. These include everything from IPT (Insulin Potentiation Therapy) and gene-targeted therapies, to metronomic chemotherapy, mistletoe, high-dose Vitamin C, sono and photodynamic therapy, dendritic cell vaccines, and intravenous nutrients. The doctors also answer the question, "What is cancer and what causes it?"
2) How to support and heal the body during and after cancer treatments. Included is information on diet, detoxification, vitamin and herbal supplements, hormone therapies, homeopathic remedies, allergy treatments, exercise and other physical therapies, as well as additional supportive treatments.
3) Factors that affect healing, including finances, lifestyle habits, psycho-emotional stress, past treatments, and co-morbid conditions. Tips are provided for patients with limited financial resources.
4) How to prevent cancer in the first place, and/or keep it from returning once patients are in remission or successfully managing their cancers.
5) Why medical politics have limited people's access to effective treatments, and why knowing this is essential when searching for a cancer doctor.
6) Dangerous and/or ineffective approaches to cancer treatment.
7) Suggestions for how family and friends can help their loved ones with cancer.
8) The treatment outcomes that the doctors have with their patients.
9) Patient and practitioner challenges to healing and how to overcome them.
10) How to heal past trauma and psycho-emotional problems that contribute to disease.
Author Connie Strasheim believes that the end result of nearly a year of work on the book project will help cancer patients to better understand their options. "The book puts difficult-to-find, practical treatment information in one place. It is ideal for people who have just started researching their treatment options because it translates complex medical concepts into clear, down-to-earth language that most anyone can understand. But it will also be useful to seasoned researchers who have knowledge of many therapies, because it includes the nuanced expertise of real doctors who operate in a real clinical environment. If one of my family members or friends were diagnosed with cancer, I would want them to have access to this kind of information."
The paperback book contains 443 pages and retails for $39.95. It is available from Amazon.com or directly from the publisher at http://www.cancerbooksource.com, or by calling (530) 573-0190. Readers can visit the website to browse over 50 pages of sample content.
Interested parties may order free informational book flyers here.
BioMed Publishing Group is located in South Lake Tahoe, CA, and specializes in books and DVDs on alternative medicine, with a specific focus on chronic illnesses such as cancer, Lyme disease, and mercury poisoning. Go online to http://www.cancerbooksource.com/store for more information on our cancer publications, or http://www.lymebook.com for our Lyme disease publications.
###