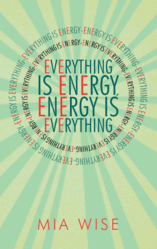 Honolulu, HI (PRWEB) May 17, 2011
Noted Buddhist monk, teacher, author and activist Thich Nhat Hanh once said that, "If we know how to create the energy of love, understanding, compassion, and beauty, then we can contribute a lot to the world," a simple philosophy that is easily forgotten in today's fast-paced, capitalistic society. Setting aside a few minutes each day to focus on cultivating positive energy can have life-changing effects, and now there is a guide designed for readers with busy lifestyles called Everything is Energy: Energy is Everything (published by Balboa Press), by Mia Wise.
Just as its title implies, Everything is Energy seeks to promote awareness of the interconnectedness between energy and well-being in all aspects of life. Wise abandons the traditional format of literary structure; chapters are nonexistent and the text favors free association and open-ended questions.
Rather than expect the reader to commit to a rigid structure of progress, Everything is Energy instead allows individuals to work through the book at their own pace. With less than 100 pages, it's easy to keep virtually anywhere, and short passages allow for quick but meaningful perusal. Each page encourages personal growth and expounds on Thich Nhat Hanh's comments about making a difference in the world. Wise writes:
We shape our thoughts
We shape our bodies
We shape the events
In our week
When was the last time
you took time
to shape…your energy?
Most people are familiar with so-called "psychic vampires" who have negative energy that is palpable to others, and Wise is hopeful that her book will arm readers with the tools to change their attitudes and work towards making a positive impact on society. "Everyone has some worry or issue or stress at any given time, that's our life as humans," she writes. "But we can make it better for others, ourselves, and it's really so very easy."
About the Author
Mia Wise has been on a spiritual journey for many years, one that intensified after she experienced some serious health problems. Her attunement to the power of energy gave her the inspiration to write Everything is Energy. Wise currently resides in Hawaii.
Balboa Press, a division Hay House, Inc., is a leading provider in publishing products that specialize in self-help and the mind, body, and spirit genres. For more information, visit http://www.balboapress.com.
###