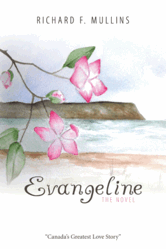 Dixfield, ME (PRWEB) May 17, 2011
Some of the darkest periods in history revolve around the forced relocation of a smaller group for the benefit of a larger one. The new book Evangeline: The Novel (published by Trafford Publishing) by Richard F. Mullins tells the tragic story of two youths caught up in the forced deportation of French settlers in Canada by Great Britain in the mid-eighteenth century.
The Expulsion of the Acadians saw the military relocation of all Acadians from modern day Nova Scotia, New Brunswick, and Prince Edward Island by the British. As Evangeline opens in the British-held territory of Grand Pré, Nova Scotia, teenage lovers Evangeline and Gabriel have been given permission to marry. The two have set the wedding date for September 6, 1755. However, three weeks before the wedding, a contingent of British soldiers led by Colonel John Winslow arrive in Evangeline and Gabriel's village and establish a garrison there. Colonel Winslow assures the villagers that the situation is only temporary, though he takes the provocative step of setting up his headquarters in the village's Catholic church.
On September 5, Colonel Winslow orders all of the males of the village above the age of ten to assemble. Once gathered, they are informed that they are all under arrest and that British naval vessels are on their way to remove them to another location. Evangeline and her fellow villagers are shocked, dismayed and totally without choice. However, it takes the ships several weeks to arrive and in the chaotic bedlam that follows, Evangeline and her beloved Gabriel are separated. No one has told any of the villagers where they are going or what is to become of them.
When Evangeline disembarks the vessel carrying her and her fellow Acadians, she discovers that she is, in fact, in the colonial seaport of Boston. Gabriel is nowhere to be found, and Evangeline is sold into indentured servitude. Her contract is purchased by the Black family, Massachusetts farmers, and she spends the next year toiling on their farm, wondering what has become of Gabriel.
Once released from her contract, Evangeline desperately scours the American Colonies searching for her lost fiancé. With the help of three befriended Shawnee, she searches everywhere for some clue as to the fate of Gabriel. Finally, exhausted, she arrives in Philadelphia where her quest comes to an unexpected end.
Evangeline is a skillful merging of romance and history that will engross its readers.
###